Broccoli, Pea, Mint OMG Pesto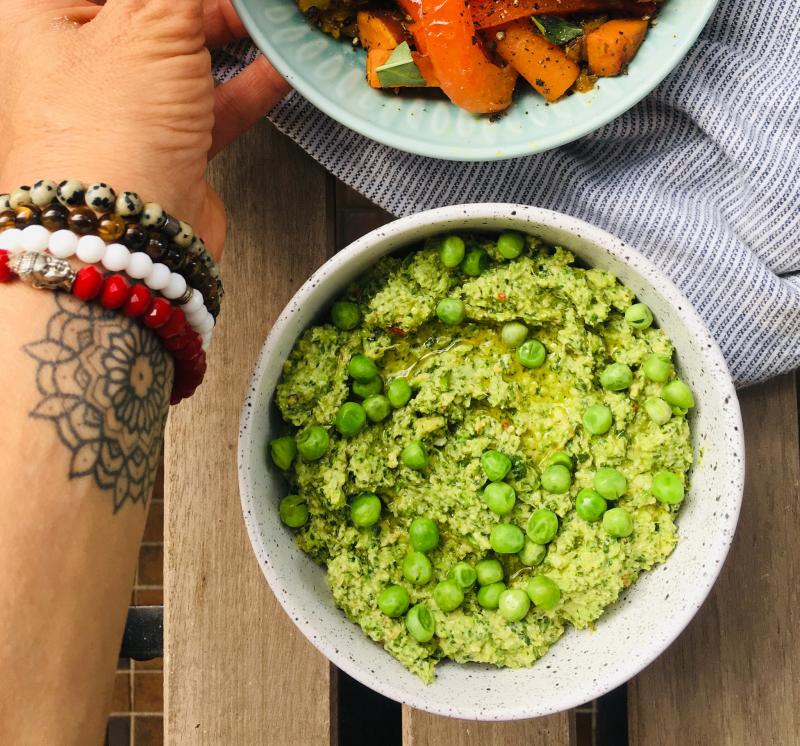 This is a genius recipe if I do say so myself. :) So fresh, vibrant, zingy & sweet, with a decadent pop of baby green peas for a next level mouth experience! 
This pesto is gonna be your summer "go to" to for:
Making a salad sexy, add as a topper over summer roasted veges, add to a fish dish if you are plant based like me and follow the 80/20 rule, stir through a gluten free pasta, add as a layer in a vegan lasagne, or spread on crusty gluten free bread, OR use as dip on its own with crudités & crackers.
Ingredients:
1C steamed broccoli

1C frozen baby peas + extra 1/2C – defrosted in hot water, drained

1 whole bunch mint

1/4C olive oil

1/4C ACV

3 drops stevia

1C cashews

2 birds eye chilli's

2 cloves garlic

generous pinch salt

pepper to taste

2-4T nutritional yeast
Method:
Add all ingredients to blender except for the 1/2C baby peas and on low using tamper pulverize until your desired consistency. I like mine a little chunky.
Transfer to bowl, and stir through additional 1/2C baby peas, top with a splash olive oil and serve.
Will last a few weeks in the fridge. Honestly so delicious you'll want to eat it all asap!
Enjoy with 
Find me on Instagram @therawfoodkitchen