Rawsome Salad With Lemon Mustard Dressing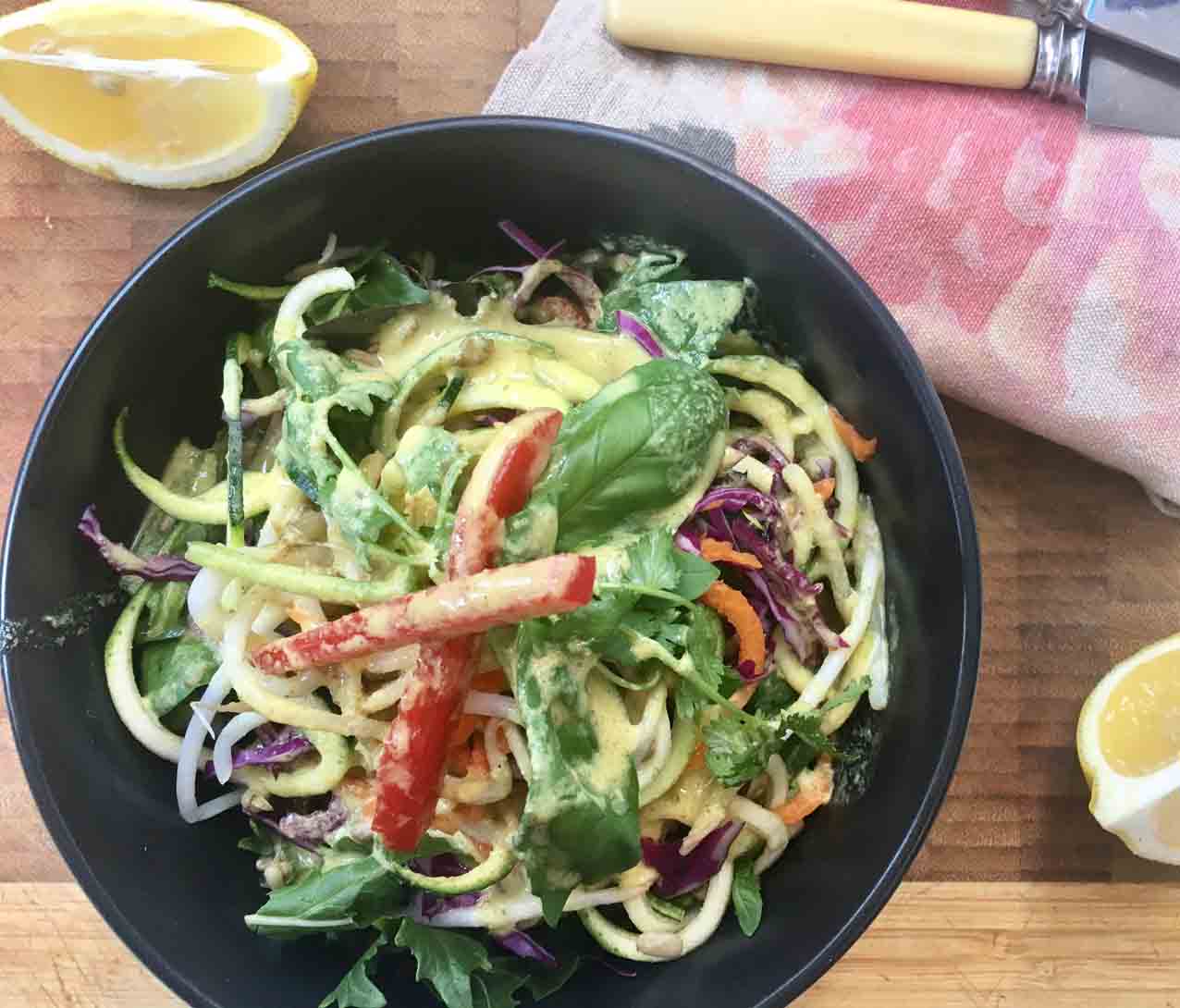 This is my Rawsome Salad with Lemon Mustard Dressing.
It's one of my favourite summer salads, colourful, crunchy, and the dressing has a little kick of heat. Loaded with superfoods of course too!
I just had to share it with you!
Ingredients (makes a generous Serves 2):
1C mixed green leaf salad

1 zucchini, spiralised or peeled like ribbons

1 carrot, spiralised or peeled like ribbons

1/4 red onion, finely sliced

1/2C bean sprouts

1/4 red cabbage, finely sliced

1/2C cherry tomatoes, sliced

small handful of mixed herbs of your choice (fresh)

1/2 red capsicum, sliced

1/4C sunflower seeds for garnish
Method:
Combine all ingredients except sunflower seeds in a salad bowl and toss through. Set aside while you make the dressing.
Lemon Mustard Dressing:
1 clove garlic

2 medjool dates

2T nutritional yeast

1/2T tamari

Juice of 1/2 a lemon

1T shiro miso paste

1T grated ginger

1t onion powder

1/2t mustard powder

1/2C cashews

1/4C olive oil
1T apple cider vinegar (ACV)
water to thin as necessary
Method:
Combine all ingredients in a blender. Add more water as needed to get the consistency you desire. Adjust to taste and pour over salad. Top salad with sunflower seeds and serve. Enjoy!
PS. If you would like to experience what its like to live the raw vegan lifestyle, detox and gain more energy for 4 weeks on our 28 Day Program, all recipes, meal plans shopping lists, videos & bonus material, plus our community on the private Facebook Group page included, jump on board. You can start anytime!
Much raw love! <3