Raw Oreo Ice Cream Sandwiches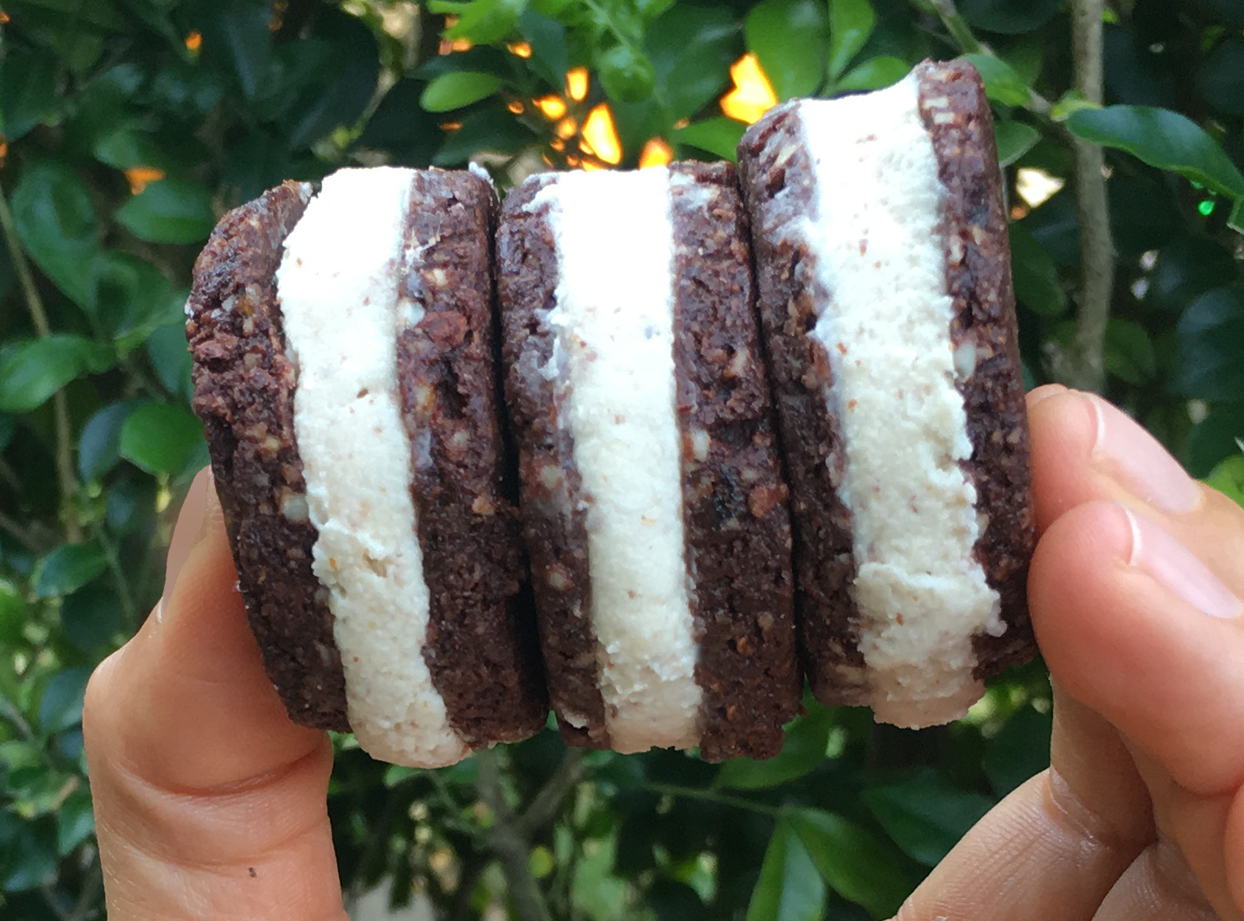 I was inspired to make these raw oreo ice cream sandwiches after discovering one of my dear friends eats a packet of traditional Oreos for breakfast every day!
I must admit I had a little Oreos addiction myself once. Until I read the Ingredients list on the back of the packet. It actually amazes me how they can make something so full of crap taste so good!
Traditional Oreos are loaded with toxic GMO fats, mineral and hormone disrupting GMO soy, palm oil, which is devastating natural habitats worldwide, as well as the evil villan vanillan. This is MSG disguised as vanilla. MSG is a cheap chemical neurotoxin which excites the brain and taste buds into thinking what you are eating tastes good and makes you want to eat more. This is how food manufacturers can get away with putting a ton of cheap nasty man made crap into a product, and making it tasty. Put a pretty wrapper on it and you have a winning product that makes them tons of money.
Ok, rant over.
Convinced to try a healthier version?! I am! Plus, my friend promised they would swap out the bad Oreos for the good, as long as they tasted sweet. And boy they do!
The best bit about this recipe? The vanilla used is 100% pure plant extract of vanilla. Medicine Flower use a special technology where all the flavour is cold extracted so no use of heat, fillers or alcohol taint the flavour. Its also extremely alkalising. As is the use of Irish Moss in the recipe.
Note: Because the Medicine Flower Vanilla it is a true replica flavour, its very concentrated and you only need to use a few drops. You can grab your Medicine Flower Vanilla Extract here. You can also use normal vanilla essence if you have some at home but you will need to use at least 1-2 teaspoons and the flavour won't be as pure.
Try these babies for yourself:
Makes approx 22 little cookies
Ingredients for the cookies:
Method:
Place almonds in food processor and blitz until breadcrumb like. Add dates, cacao powder, extracts, salt, syrup, coconut oil and blitz until combined. Add chia powder and blitz until combined until a dough forms.
Line a flat surface with baking paper and place dough in middle of baking paper. Place another layer of baking paper over the top and roll out until flat and about 2mm thick. Using a cookie cutter (I used a 3cm cookie cutter) cut out rounds and place on a dehydrator tray. Keep cutting out rounds until you have used all the dough up. Place in dehydrator at 105°F for 12-24 hours or until a little crunchy.
If you don't have a dehydrator place in the fridge or freezer to firm up for approx 4 hours.
Ingredients for the Oreos filling:
1/2C cashews, soaked 20 mins, drained

1C coconut meat

1T coconut oil, melted

2T cacao butter, melted

2T coconut syrup

2T lemon juice

12 drops Medicine Flower Vanilla Extract

1/4C Irish Moss (optional but this helps set the filling – our vegan's version of gelatine!)

pinch salt
Method:
Place all ingredients in a high powered blender except for the cacao butter and coconut oil and blend until smooth. Add cacao butter and oil and blend again until combined. Place in fridge or freezer to set for 4 hours or overnight. Once cookies and cream are suitably set use a knife to spread cream onto one cookie and cover with the other. Store in fridge or freezer until ready to serve. Waaaay better than that store bought stuff! Enjoy! <3
Want the book? Grab your copy here!
With love from The Raw Food Kitchen