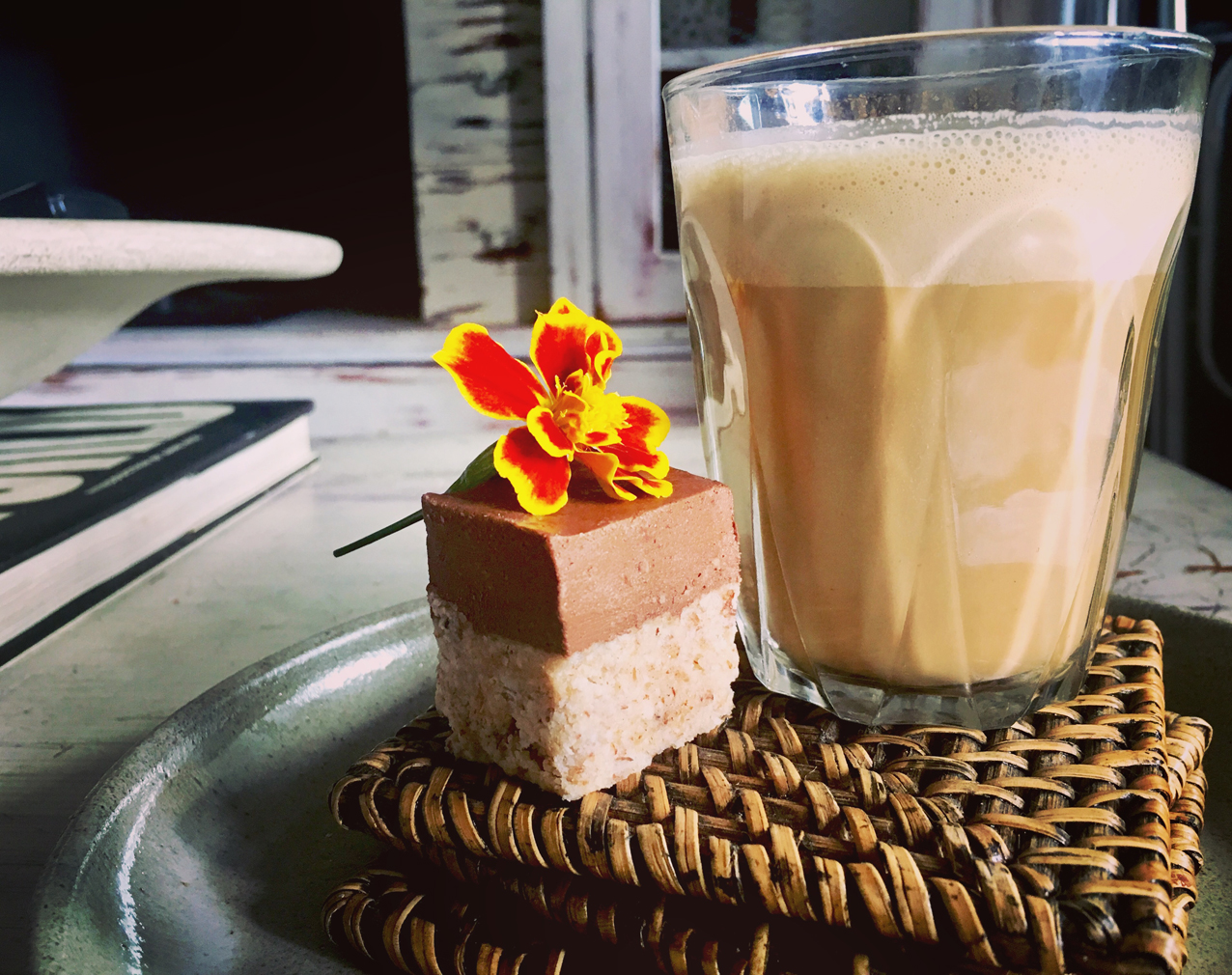 This is my Bullet Proof Dandy Latte. Yummmmm.
As you know I am experimenting with a Ketogenic diet using the KetoOS supplement, and one of the perks or quirks of the diet is you can have coffee – just upgraded, and in the Ketogenic community they call it Bullet Proof Coffee.
It's coffee with added good fats such as coconut oil, MCT oil, or organic grass fed butter.
Yep! Thats right, and it's actually quite tasty and creamy!
The added benefits of this is you don't get the crash, it delivers fat soluble vitamins to your cells, and helps with ketosis.
However not so great if you are caffeine sensitive like me! So I made my own version of Bullet Proof Coffee using roasted Dandelion tea as the base, and it makes a great healthy, liver loving substitute for your bullet proof coffee!
I just had to share it with you!
Ingredients (makes a generous Serves 1):
1T cacao butter

1/2C cashews

1C hot Dandelion tea

1t reishi or he shou wu (optional)

1t cordyceps (optional)

2T coconut oil

8 drops Medicine Flower Coffee Essence (optional)

8 drops Medicine Flower Caramel (optional)

pinch himalayan salt
1T xylitol
8 drops Vanilla Stevia
Method:
Place all ingredients in a blender and blend until well combined and frothy. Adjust to taste. Serve. Enjoy. <3
PPS. If you would like to experience what its like to live the raw vegan lifestyle, detox and gain more energy for 4 weeks on our 28 Day Program, all recipes, meal plans shopping lists, videos & bonus material, plus our community on the private Facebook Group page included, jump on board. You can start anytime!
Much raw love! <3
PS. Have you seen my Salted Pecan Caramel Fat Bombs Recipe Video yet? Check it out here.