This week I stood up for a good cause.
I got up way too early in the morning to head out in the pouring rain and freezing cold to get to the city to stand up for the animals and be a part of the humane chain to ban live animal exports in Australia.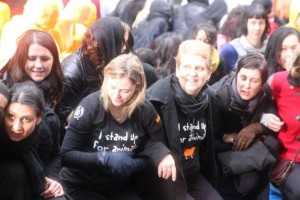 And smash a world record! We all had to link arms and sit cross legged on our butts and stand up from the seated position. I am guessing there was about 100 of us. It was alot harder than it sounds! Not to mention very unappealing sitting our butts down on wet cold concrete. Of which we had to do no more than 5 times over a period of an hour. The rain didn't stop and it only got colder as we stood shivvering and soaking wet.
But it got me thinking how this is probably a fraction of what the animals go through on their journey of live export trade from the farm to the truck, ship and then overseas abbatoir where they are treated horrifically and killed very inhumanely.
Here are some facts: Each journey to the Middle East or Indonesia can take up to 35 days with three sheep confined to one square metre during the entire journey. Nearly 27,000 die on this journey every year due to starvation, or physical trauma due to stress, overcrowding and outbreaks of disease.
Once they arrive overseas the animals are thrown, shoved into car boots, or dumped on top of already dead or dying sheep. During slaughter cattle are maimed and tortured before a slow and inefficient death, sometimes their throats are cut while fully conscious, while other animals look on to witness this inhumane way of killing.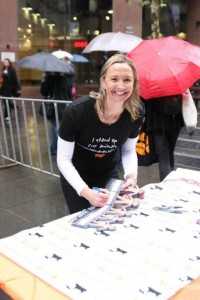 WSPA and The Body Shop did a tremendous job getting such a good turnout to the Humane Chain help ban live export of animals event and not to mention Olympic Gold medallist Brooke Hanson was there, whose megawatt smile lit up the whole of Martin Place, and Lord Mayor Clover Moore made an inspiring speech. And it was great to see everyone helping each other out in the chain, I even saw one lovely old lady who must have been in her 80′s help up a much younger girl who had trouble with her legs trying to stand up. To support the ban of live animal exports head to The Body Shop, sign The Orange People Humane Chain form or click on the link below for more details. The signatures will form a chain to be delivered to the local MP and Federal Government.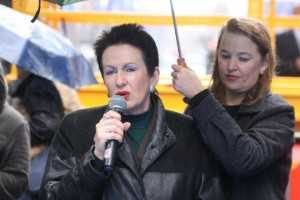 But be quick – its only on until the 19 August.
Little lamb says do it!
I also have some more exciting news. I officially finished up in the corporate world yesterday!
So now I can focus all my energy on The Raw Food Kitchen and get ready to help you and share with you all the delights of the raw food world and more. And stay tuned for the first official class date!
Peace and love
Amanda