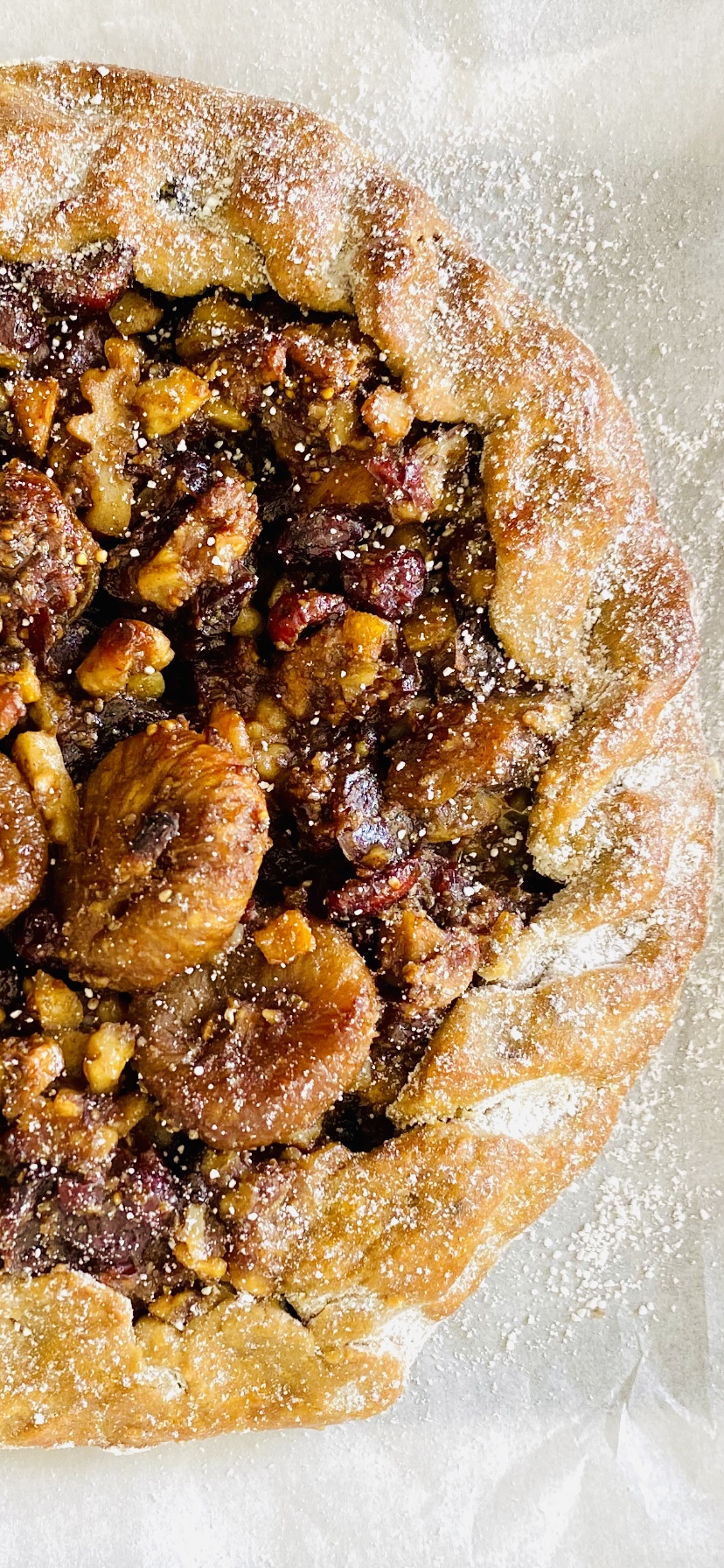 It's usually hot and melting in Australia on Xmas Day so I wanted to make something easy for dessert on the day.
And I have become obsessed with galettes so I thought why not make a Xmas Galette!
A deconstructed xmas pudding style treat wrapped up in a delicious home made gluten free pastry.
Serve warm with the custard cream recipe below (all raw vegan) or with a dollop of coconut ice cream.
Serves 8-12.
Ingredients:
1/2C buckwheat flour

1/2C chickpea flour

1C gluten free flour

1/2C cold water

1/4C olive oil

1C dried figs

1/2C mixed dried peel
1C cranberries

1/2C dates

3/4C walnuts

1/2C filtered water
1t cinnamon

1t chia seeds

1/4C brown sugar

juice 1/2 lemon

2T almond butter

*Optional: Beaten egg for brushing pastry for golden finish.

*Optional: Icing sugar for dusting for garnish

*Optional: 1t almond essence (optional)
Method:
Turn oven on to 180°C / 355°F.
In a bowl add the chopped figs – keep a few whole for garnish, cranberries, chopped dates, chopped walnuts, mixed peel and filtered water. Allow to soak for 30 minutes.
While the fruit mix is soaking make your dough / pastry base.
In a bowl combine the flours, cold water, & olive oil and stir to combine to create a dough. Work with hands until it forms a ball. If it's too sticky, keep adding flour until you get a dough that is easy to work with.
On a baking paper lined tray dusted with flour, using a rolling pin roll out dough into a 25cm circle about 0.5cm thick.
Drain fruit mix from water and add in the cinnamon, chia, brown sugar, almond butter, lemon juice (and almond essence if using) and mix together.
Place fruit mix in the centre of your rolled out pastry. Overlap the edges of the pastry onto the fruit mix and work your way around until complete.
If using the beaten egg, with a pastry brush, brush the egg on to the edges.
Bake in the oven for 3-35 minutes or until golden.
Serve with the Custard Cream – recipe below – or serve with your favourite vanilla or coconut dairy free ice cream.
Custard Cream:
1/2C cashews natural, soaked in water 20 mins, drain

1/4C coconut milk

4T maple syrup

pinch salt, star anise, clove, turmeric


Method:

Blend all ingredients until smooth. Adjust to taste. Refrigerate until ready to serve the Xmas Galette.
Enjoy & Merry Xmas!
Enjoy with 
More on Instagram @therawfoodkitchen