Turmeric & Ginger Hot Porridge Winter Warmer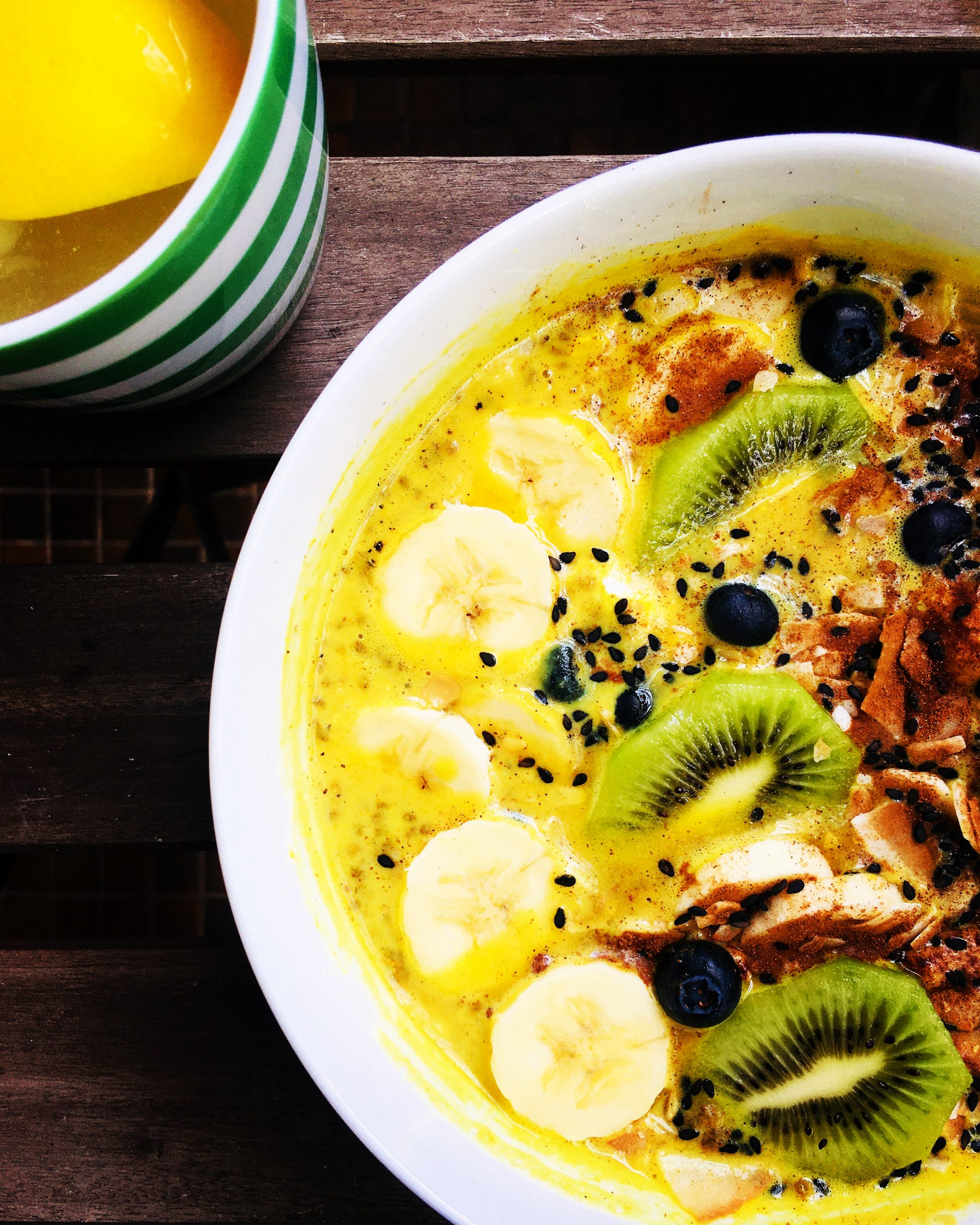 During the winter months we don't get as much sunlight aka Vitamin D as we would like.
That's why it's important to eat varied and colourful plant based foods,  this means you are ingesting the chemical sunlight stored inside the plants, giving you life & energy!
Adding in nature's superfoods on top such as ginger and turmeric where ever and whenever you can gives your immune system a boost. Just a few benefits of consuming ginger and turmeric is they are anti-viral, anti-bacterial, support the liver, gives you loads of anti-oxidants and reduces inflammation. Also great for digestion and warming your tummy up!
This recipe is so simple you can make it in 5 minutes.
Serves 1.
Ingredients:
4T rolled oats

1T chia seeds

1 scoop vegan protein powder (I love PranaOn – super high quality ingredients)

1T chopped ginger (I like it hot!)

1t chopped turmeric root (you can use 1t turmeric powder if you don't have)

1t cinnamon

1/2C boiled hot filtered water

cracked black pepper

pinch salt

Toppings of your choice: Pictured I used toasted coconut flakes, sliced banana, sliced kiwifruit, blueberries, black sesame seeds, and a dollop of coconut yoghurt & tahini.
Method:
In a breakfast bowl, pop your oats and chia seeds together. In a blender add ginger and turmeric. Pour in hot water and blend until combined. Pour over oats & chia in bowl, add vegan protein powder and cinnamon and stir to combine.
While that is cooking (it literally takes 5 minutes to soften the oats) prepare your toppings however you like them. Serve. Enjoy your sunshine in a bowl!
Other great topping ideas: Ginger syrup, extra spices like clove, cardamom, star anise, chopped and toasted nuts and seeds. Figs, stewed pears or prunes. Yum!
ENJOY WITH LOVE. <3
Find me on Instagram @therawfoodkitchen