Raspberry Protein Oat Cake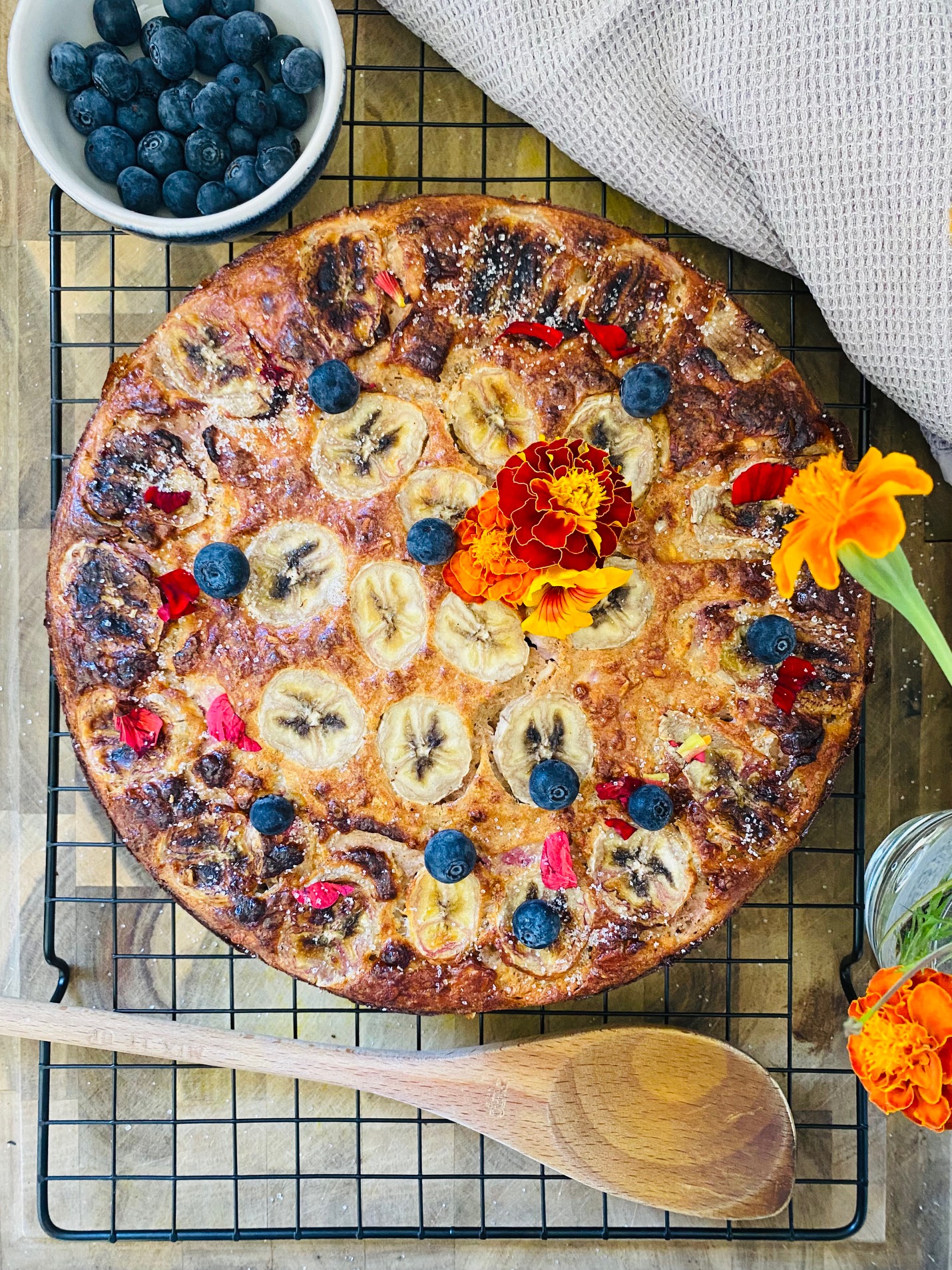 Looking for the most deeeeelicous pre or post workout snack?
This Raspberry Protein Oat Cake is sooo good it would stand on its own as a dessert for anyone – health junkie or not.
You must try this!
Makes 8 big slices.
Ingredients:
2 cups old fashioned Rolled Oats

4 scoops Vanilla Protein Powder

2 tbsp Ground Flaxseed (Optional)

1 tsp Baking Powder

1/4 tsp Salt

1 tbsp Cinnamon

1/2 cup Stevia in the Raw

4 Egg Whites or 4 flax eggs

1 1/2 cups Unsweetened Coconut Milk

1/4 cup Plain Coconut Yogurt

1/4 cup Unsweetened Applesauce

2 Bananas (Sliced fairly thin)

Punnet of Raspberries (or Blueberries – you choose!)
Method:
1. Preheat oven to 375F /190C
2. In a medium bowl mix together dry ingredients.
3. In another medium bowl mix together wet ingredients except fruit.
4. Spray an 8″ or 8.5″ round or square baking pan with non-stick spray.
5. Line the bottom of the round baking pan with one of the thinly-sliced bananas.
6. Mix dry ingredients into wet ingredients – make sure it is distributed evenly.
7. Add the Raspberries or Blueberries to the mixture and mix around. Leaving about 10 left to decorate the top.
8. Pour mixture on top the layer of sliced bananas.
9. Cover with remaining sliced banana and Raspberries or Blueberries
10. Bake for 40-45 minutes until top is golden brown, or inserted knife comes out clean.
433 Cal per serve
75.5g Carbs
8.3g Fat
34.5g Protein
Disclaimer: Recipe made by my partner so I can't take full credit for this one!
Enjoy with 
Follow for more on Instagram @therawfoodkitchen