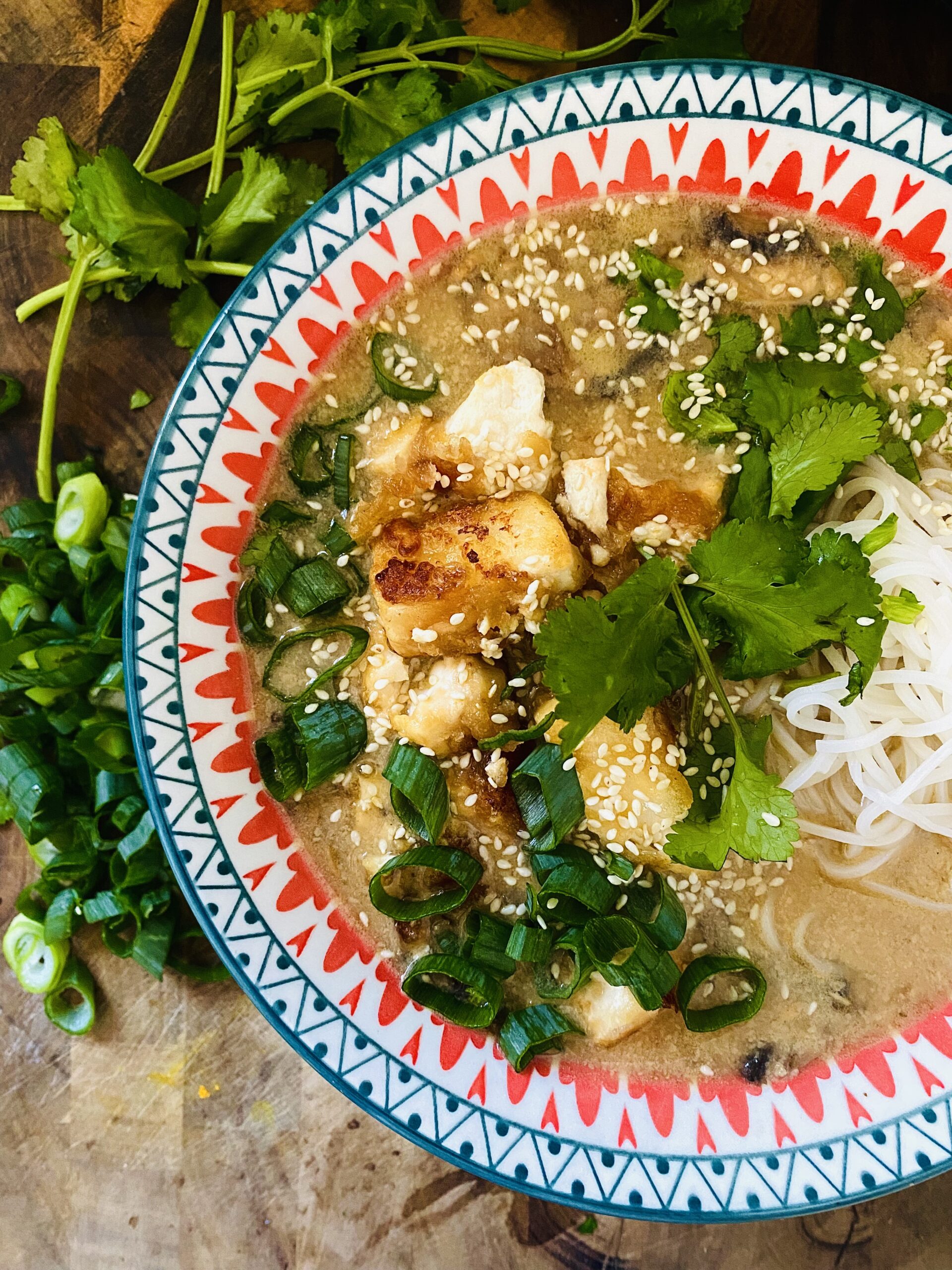 Enjoy this GF DF Satay Ramen, a quick & tasty lunch dish and perfect for autumn days.
You can make this with your favourite protein.
In this GF DF Satay Ramen, I used a silken GMO free organic tofu that is on high rotation at the moment because the taste and texture is just divine. ❤️
Ingredients:
For the tofu:

500g tofu, cubed

1t honey

2t tamari

1t chilli paste

1t sesame oil

1t apple cider vinegar

1t garlic or onion powder

cornstarch for coating

1T coconut oil for frying
Method:
Combine all ingredients except for the tofu, cornstarch & coconut oil and stir to combine. Add in tofu, and toss to coat. Lastly add the cornstarch and toss to coat so the surface is relatively dry.
Heat a fry pan over medium / high heat, add coconut oil, then add the tofu mix and fry until golden on all sides. Remove from heat and set aside while you make the rest.
Ingredients:
For the noodles:

250-500g rice noodles. 
Method:
Heat a saucepan filled with filtered water and bring to boil. Add the rice noodles and cook for 5 minutes until soft. Drain, rinse and set aside.
Ingredients:
For the stock base:

2t ginger paste

2t garlic paste

1T sirracha sauce

1T raw honey

1T miso paste

2T peanut butter smooth

1t sesame oil

250g mushrooms, sliced

4C vegetable stock

pinch salt

Coriander, spring onions, sesame seeds to garnish
Method:
Add sesame oil to large fry pan over medium / high heat and cook with pinch salt till browned off. Add ginger, garlic paste, sirracha, miso, honey, peanut butter and stir through. Add the stock, reduce heat to low and stir until all combined. Let simmer for 5 minutes.
In a ramen or soup bowl, pour in broth base, then add the noodles, and arrange the tofu. Garnish with the coriander, spring onion, sesame seeds and serve.
Enjoy without the belly bloat and inflammation as everything is dairy free and gluten free.
Follow for more on Instagram @therawfoodkitchen