Capsicum Trio Salad Dressing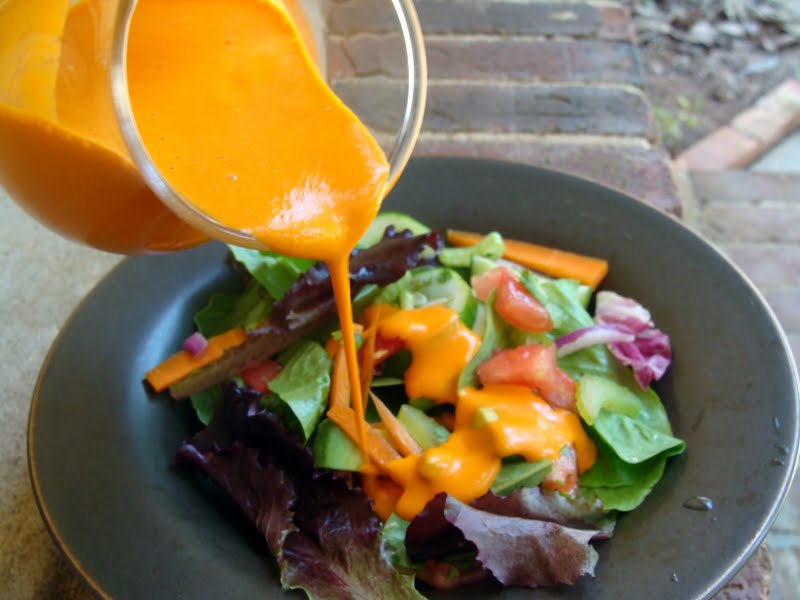 This is the most delicious way to get lots of capsicum into you. Just one capsicum is 300% RDI of Vitamin C!
Also high in iron and stimulates our metabolism, this salad dressing is the healthiest one around!
This Capsicum Trio Dressing will delight your taste buds with the sweetness and creaminess. You can also use this dressing to toss through your favourite zuchinni pasta dish or use as a soup!
Add this baby to your favourite salad today.
Ingredients (makes approx 1 litre):
2 red capsicums

1 yellow capsicum

1/4C ACV (Apple Cider Vinegar)

1/4C coconut nectar

1/4C cashews

1 clove garlic

pinch smoked paprika

1T fresh ginger

3/4C coconut oil (warmed till liquid) or you can use 1/2C olive oil

pinch mineral salt

few drops stevia (if desired)
Method:
Put all ingredients in a high powered blender and blend until smooth. Adjust to taste. Place in a glass bottle or squeezy and pour over your favourite salad or raw food dish!
Will store in fridge for up to one week. If you are using coconut oil – once its been in the fridge for a while it will solidify a bit so you will need to bring out to room temperature (or liquify it by submerging bottle in a jug of hot water) before using again.
PS. I highly recommend using coconut oil as it gives this dish such a unique flavour.