Spicy Hummus Dressing with Pomelo & Tarragon Sweet Potato Salad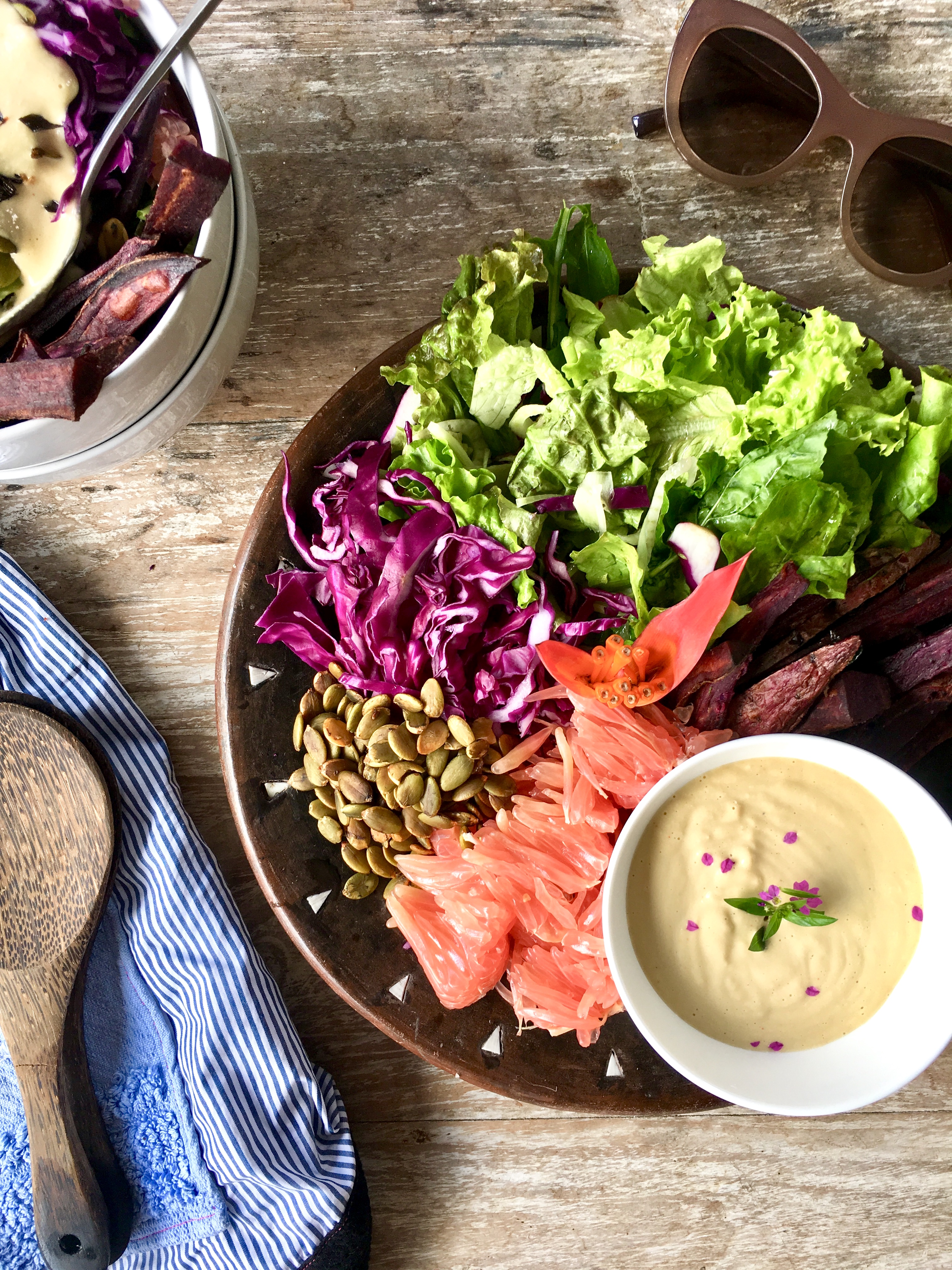 I love to feel inspired when shopping each week otherwise I end up buying the same stuff over and over again.
So this week I decided to pick two ingredients and work a recipe around them. I chose Pomelo and Tarragon. Yum!

So the Spicy Hummus Dressing with Pomelo & Tarragon Sweet Potato Salad was born.
Here's what transpired..
2 generous serves of a delicious, filling, healthy salad. All the flavours work so wonderfully together.
Plus the Spicy Hummus Dressing goes well over everything. As I have discovered! It's a keeper. :)
Ingredients for the Spicy Hummus dressing:
1C canned chickpeas (organic & BPA free tin)

1/2C cashews

4T tahini paste

1/2C lemon juice

salt and pepper to taste

1/4C olive oil

2 cloves garlic

1t smoked paprika powder

1t chilli powder

1t ginger powder

1T ACV

3 drops liquid Stevia (optional)

water to thin
Method:
Add all ingredients to a high speed blender and blend until smooth. Add water to thin, or create your desired consistency. Adjust to taste. I like mine with a definite hit of smoky, spicy, paprika so depending on the brand you may need to add more.
Set aside while you make the salad.
Ingredients for the Salad:
1/2 pomelo, shredded (this is like a big grapefruit but less sour, divine!)

4C leafy greens of your choice

1C pumpkin seeds (mine were tossed in a curry spice)

1/2 small red cabbage, shredded

1 fennel bulb, finely sliced

1 medium purple sweet potato, cut into 1cm width lengths, and tossed in 2T fresh chopped tarragon, olive oil, s&p, then pan fried till golden – set aside
Method:
In a pretty salad bowl, assemble each ingredient beside each other, leave room to put the spicy hummus in a small bowl, and you can dip your sweet potato fries in them while you serve up the salad. :)
Enjoy!
PS. If you would like some gut loving recipes to help heal your digestion, get rid of the bloat, and get back your zest for life try The Gut Makeover Program. A 4 week guided Program where I guide you back to loving & healing your gut again in 4 easy steps.