Vegan Friendly Veggie Patties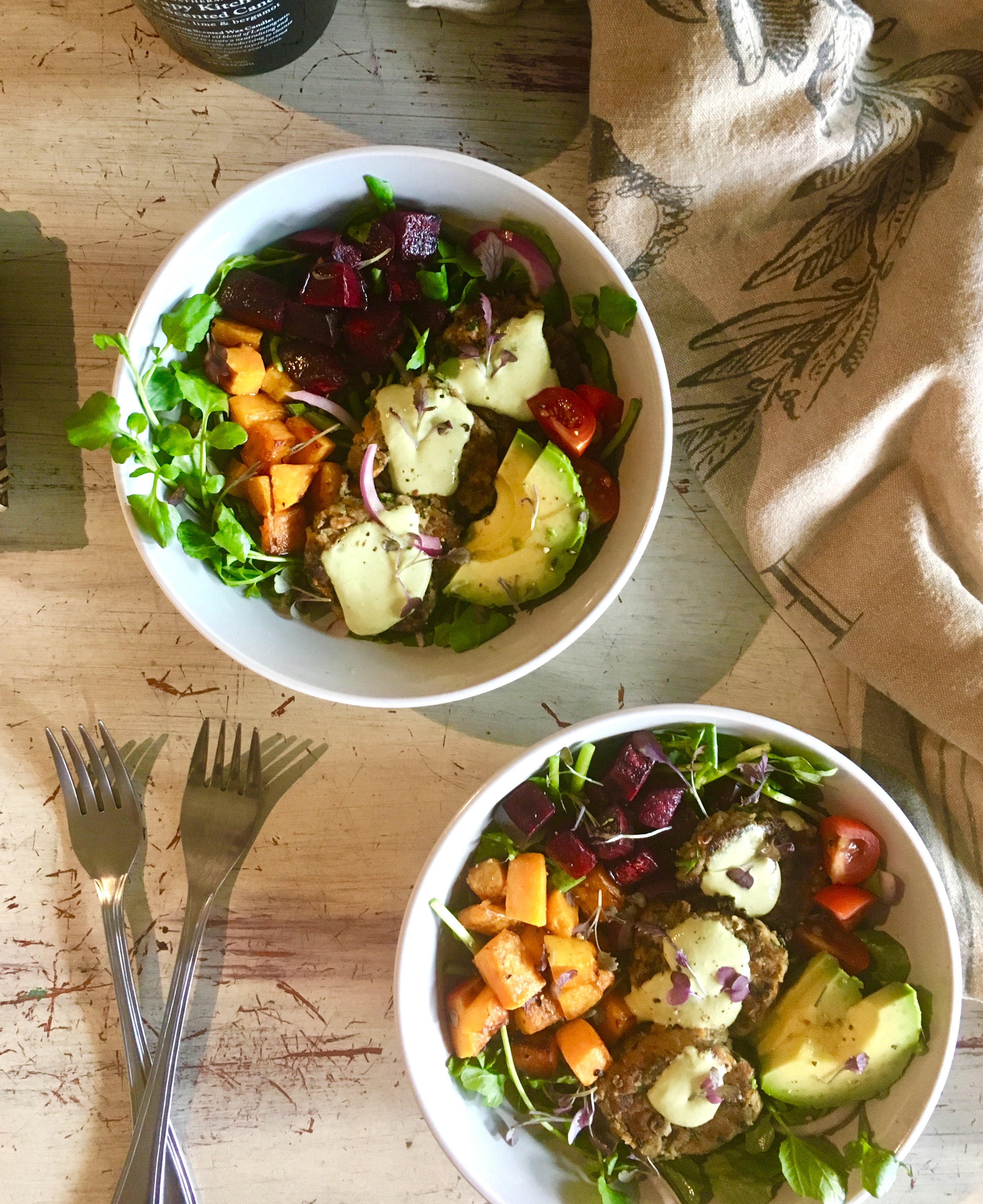 These Vegan Friendly Veggie Patties are delicious with my basil and tahini dressing. Add in some roast beetroot and pumpkin with watercress and you have a super nutrient dense winning salad.
Dairy free, gluten free, cruelty free and so easy to make! 
Vegan Friendly Veggie Patties (makes about 20 small patties):
Ingredients for Vegan Friendly Veggie Patties:
1C chickpea flour

2 carrots, grated

4 small zuchinni, grated, moisture squeezed out

1t tamari

1 handful parsley, chopped

1 handful basil, chopped
1/2 onion, diced
1 clove garlic, chopped
4T lemon juice
1t cumin
1t smoked paprika
1t coriander seed ground
salt and pepper to taste
2T coconut oil + extra for shallow frying
2T chia seeds
2 flax eggs (soak 2T flax seeds in 1/4C water for 15 mins)

4T ground flax powder

1/2C water or more to bind
Method:
Place all ingredients in a mixing bowl and stir to combine. Work with your hands until the mix comes together. Add more water if necessary. Let sit for 15 minutes as the flax and chia absorb moisture and create a binder for your vegan patties. When you can pick up a pattie sized amount of dough and it doesn't break about you can mould to your desired pattie shape.
Heat a fry pan on medium heat and add coconut oil. Add patties and fry until golden brown, then flip. Cook through. Remove from pan and allow to cool, on a plate, while you make the dressing.
Basil and Tahini Dressing:
one whole bunch basil

4T tahini

1/4C lemon juice

1 clove garlic

salt and pepper to taste

2T apple cider vinegar
2T coconut nectar
1/2C olive
water to thin
Method:
Add all ingredients to a blender and blend until smooth. Adjust to taste and add water to your desired consistency (note this will thicken up in fridge). Set aside and use on top of veggie patties or as a salad dressing. It's so versatile and will last about a week in the fridge. :)
Serve Vegan Friendly Veggie Patties and Basil & Tahini Dressing with watercress, chopped tomato, avocado, and some roasted pumpkin and beetroot and you have a delicious gourmet salad that is super filling and satisfying. :)
Patties last about a week in the fridge, in a sealed container. Or these freeze well too.
PS. If you would like to get back on the clean eating wagon after New Year, why not try my 7 Day Raw Food Plan. It's easy, no fuss, has yummy recipes and is a quick way to feeling great again. Meal Plan, recipes, done for you shopping list, bonus recipes, videos and more from me!