Sprouted Quinoa and "Roasted" Cauliflower with Cranberry & Pepita Salad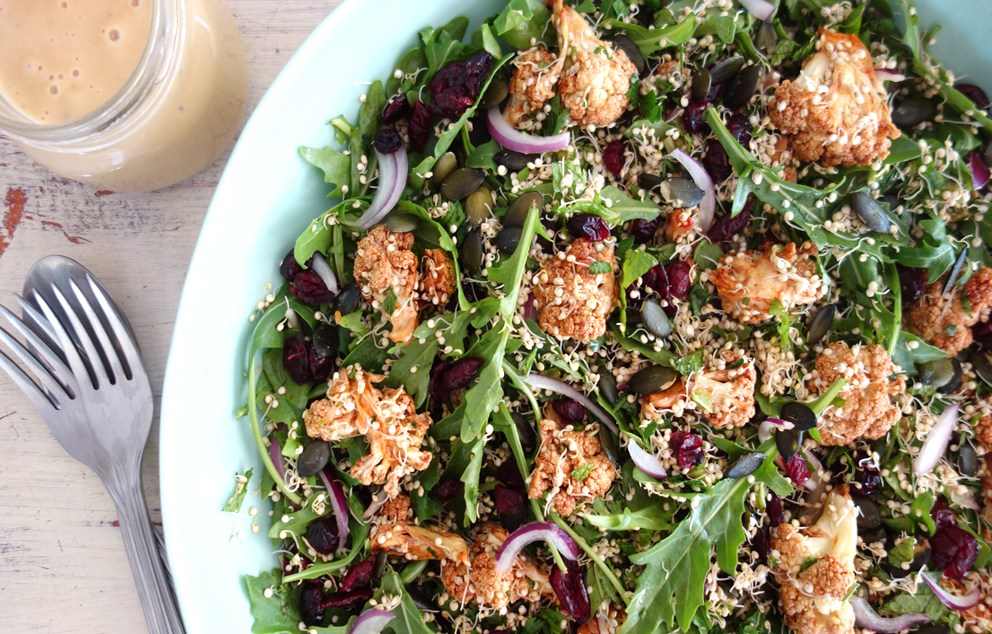 I have put together this yummy summer Sprouted Quinoa and "Roasted" Cauliflower Cranberry & Pepita Salad after I got inspired by the local Italian cafe down the road from home, as it looked delicious but was loaded with pasta and dairy. This version is much healthier using sprouted quinoa, and a delicious miso cashew dressing. Enjoy!
Serving size: Serves 2
Ingredients:
1C sprouted quinoa (to sprout place 1C of quinoa into a nut milk bag, soak overnight in bowl with water, drain and rinse twice a day, hang your nut milk bag off a hook for good drainage. It should sprout within 4 – 8 hours.)
1 medium cauliflower, broken into florets
1/2C pepitas / pumpkin seeds
3/4C cranberries reserving some for garnish
1/2 bunch flat leaf parsley – chopped
1/2 bunch mint – chopped
100g rocket
1/4 red onion, finely sliced
1T tamari
1t smoked paprika
1T raw honey
1T ACV (Apple Cider Vinegar)
1T olive oil
salt & pepper to taste
Method:
In a bowl toss the cauliflower florets in the tamari, paprika, raw honey, ACV, olive oil & salt and pepper. Place on a dehydrator tray and dehydrate at 115°F for 4 hours. Set aside while you make the rest of the salad. If you don't have a dehydrator you can do a normal roast in the oven with the cauliflower. Ssssh don't tell anyone.
In a bowl combine the remaining ingredients including the sprouted quinoa and cauliflower and toss together. Set aside while you make the dressing.
Cashew Miso Dressing:
1/4C shiro miso
1/4C coconut nectar
1/4C ACV
1/4C olive oil
1/2C cashews – soaked in water for 20 minutes, drained
2T – 4T water for thinning if necessary
salt & pepper to taste
Method:
Place all dressing ingredients in the blender and blend until smooth. Add water if necessary. Pour dressing ingredients into a mason jar and serve with the salad.
Enjoy!
Want the book? Grab your copy here!
With love from The Raw Food Kitchen