Peach & Almond Marzipan Gluten Free Galette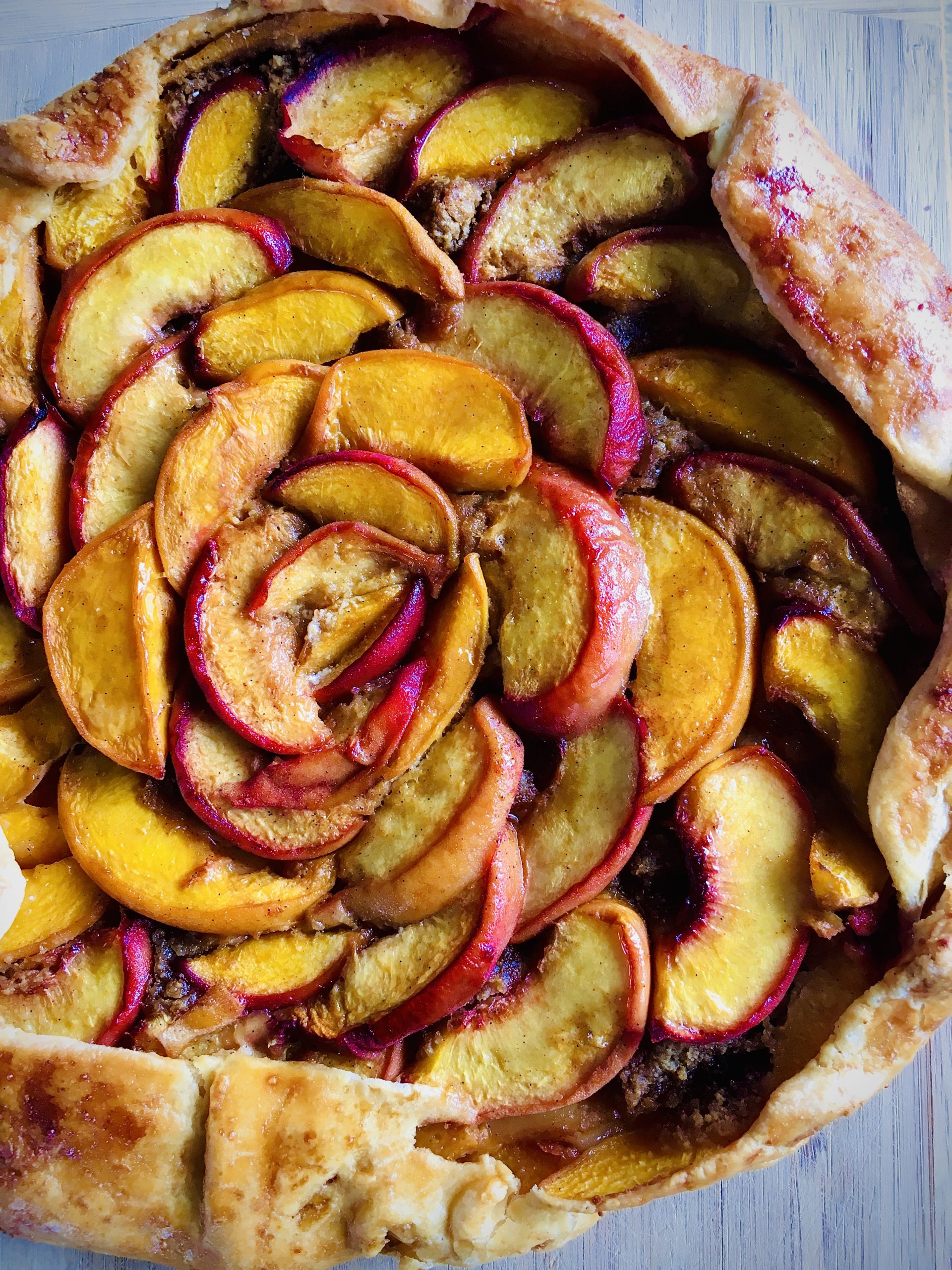 Ok I am on a Galette roll, because it's so freakin yummy and it feels healthy because I've kept it gluten free and optionally dairy free.
I wanted to try a dessert style dish with the gluten free pastry and keeping it in the Galette theme. And who doesn't love marzipaaannnnnnnn mmmmmmmm.
Trust me you will thank me for making this Peach & Almond Marzipan Galette.
If you can't get access to peaches, you can try nectarines, or even apples & pears would go well with the Marzipan base.
Serve the Peach & Almond Marzipan Galette with coconut ice cream.
Serves 8.
Ingredients:
Gluten free flour for dusting surface and rolling pin

1 packet short crust or flaky pastry

3/4 cup almond meal

Zest and juice of one lemon

3T coconut oil or 3T organic butter

10 drops almond essence (optional)

pinch salt

1/4C coconut sugar

1 egg yolk or 1T coconut oil

4 large peaches, pitted and sliced, tossed in 2T lemon juice & zest, 1t cinnamon, pinch salt and 3T coconut sugar
Method:
In a bowl, add almond meal, almond essence, pinch salt, 2T coconut oil or 2T organic butter, 1/4C sugar, and remaining lemon juice, and bring together like a dough to make your almond marzipan. Set aside.
On a flat surface, dust out some gluten free flour and also coat the pastry and rolling pin. Place dough in the middle of the surface and start rolling out into a circle, approx 35cm.
Transfer to a baking paper lined tray.
Start placing almond marzipan down about 10-20cm away from edge. Then start placing the sliced peaches on over the top, staying away from the edge. Garnish with remainder of lemon juice and marinade the peaches were in, dot with butter or coconut oil. Roll edges of pastry over so it encloses the marzipan and sliced peaches.
With a pastry brush, brush the pastry with either egg or coconut oil. Dust all over with additional coconut sugar.
Bake in a 190°C fan forced oven for approx 50 minutes, or until nice and golden. Allow to cool slightly before cutting and serving. Serves 8.
ENJOY WITH LOVE. <3
Find me on Instagram @therawfoodkitchen