Gluten Free Xmas Cake with Almond Marzipan Cream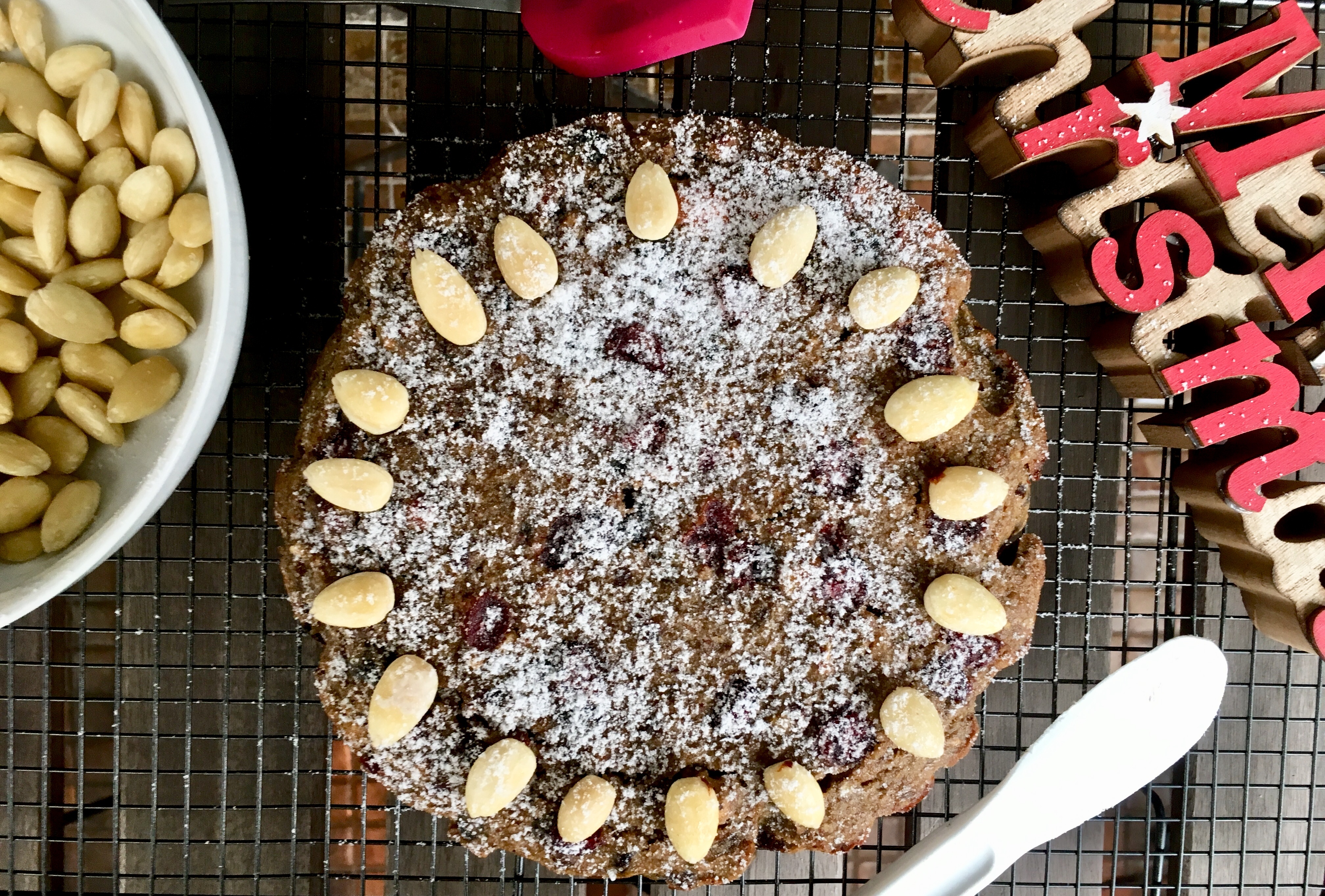 Gluten Free Xmas Cake with Almond Marzipan Cream Recipe for you!
Here is a delightful xmas cake that is gluten free, dairy free and full of yummy goodness and is so easy to make!
I've used cranberries, dates and dried blueberries as my dried fruit but you can use any dried fruit of your choice. Ginger and apricot would work well here too.
Ingredients:
1C buckwheat flour

1/2C coconut flour

1C cranberries

1/2C dried blueberries

1/2C chopped dates

4 oranges – juice and zest

1 lemon – juice and zest

1cm piece ginger, grated

4T chia seeds

1C chopped hazelnuts

2T coconut syrup or maple syrup

1t vanilla extract

1t mixed spice

1/2t turmeric

1t cinnamon

1/2t clove powder

1t baking powder

3/4C warm water

pinch salt & pepper

OPTIONAL: Blanched almonds & extra cranberries for garnish
Method:
Preheat oven to 190 degrees celsius.
In a seperate bowl, add all dried fruit, sweetener, vanilla extract and ginger and soak in the water while you prepare the rest of the ingredients.
In a blender add orange juice, lemon juice and zest. Add chia seeds and blend to combine.
In a large bowl, add flours, spices, s&p, hazelnuts, stir to combine. Pour in the dried fruit soak mix, including the water and then add the orange juice chia mix. Stir to combine until you get a nicely mixed through batter.
Pour into a baking paper lined 8 inch round tin, or you could use a loaf tin here too or a square tin.
Bake for 40 minutes or until a skewer comes out clean.
Almond Marzipan Cream:
200g blanched almond flakes

2T coconut oil

1/2C water

2T coconut syrup or maple syrup

2t chia powder

pinch salt

OPTIONAL: 24 drops Medicine Flower Almond Extract
Method:
In a food processor – add blanched almond flakes and process until you almost get a butter. With food processor running, slowly pour in sweetener, then coconut oil, then water, chia powder. Process until well combined.
Pour into airtight container and let set up for a few hours or overnight in the fridge.
Slice cake and serve with a generous dollop of almond marzipan cream. Merry Xmas!
Enjoy with ❤️Find me on Instagram @therawfoodkitchen