Fermented Apple Dill Sauerkraut – Exclusive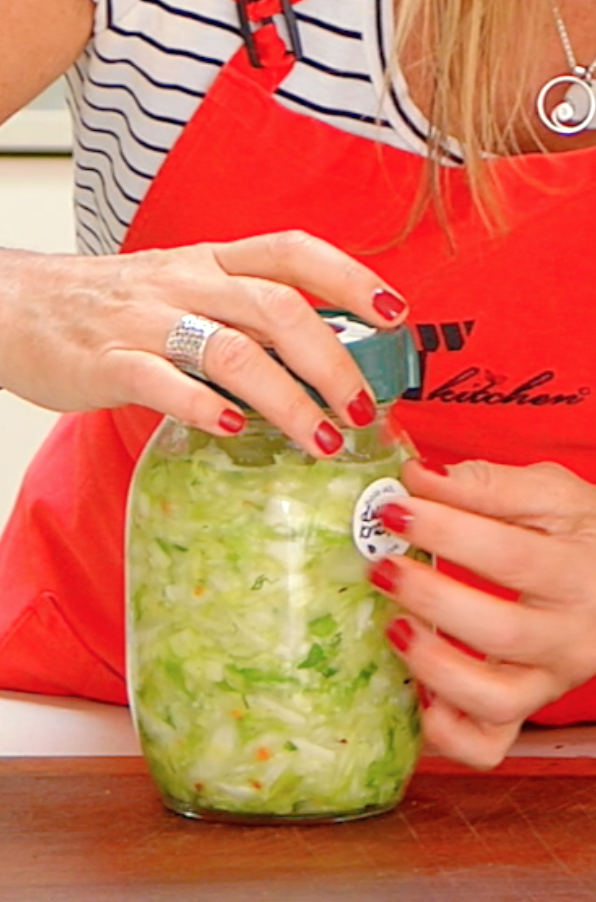 Apple and Dill go so well in this Sauerkraut, and adding the apple also helps kick start the fermentation process as good bacteria love sugar!
In this ferment we're using the dry salt brine method.
Remember – just 1/2 cup of Sauerkraut gives you 10 trillion good bacteria! There is no pro-biotic capsule on the market that could do that.
Equipment:
Hot rinsed wide mouth mason jars (1L/32oz), approx. 2, with 2 x airlock lids & 2 x fermentation weights preferably for easy & safe ferment. If you don't have these you could use rolled up cabbage leaves to stuff in the top of jar when you have finished packing the jar, and a screw band mason jar top.

Sharp knife or mandolin, or food processor with shredder blade

Wooden rolling pin or tamper (I use mine from the blender in this recipe) (for pounding)

Large bowl
Ingredients:
1 head of organic organic (preferably) cabbage, red or green

2 teaspoons himalayan crystal salt – do not use table salt

handful fresh dill, chopped

1 green apple finely chopped

2cm piece turmeric

Optional: 2 teaspoons coriander seeds
Method:
Grate or chop the cabbage into a large mixing bowl. Add the salt. Massage and squeeze the cabbage with your hands until moisture is being released from cabbage. Add remaining ingredients (if using) and massage again.
Transfer mix to clean mason jar and pound again with rolling pin / vegetable tamper or pounder to push mix down into jar. This will also release the brine even further. Continue with this method until you reach the shoulder of the jar, a couple of inches below the neck. Ensure there is enough brine covering the top of the vegetables.
Place fermentation weight (or rolled up cabbage leaf) into jar and push down so the mix is submerged under the brine. This ensures a steady start to the lacto-fermentation process.
Place on a plate and and allow to ferment 3 – 7 days. You will see bubbles form, this means it is fermenting!
Room temperature will vary the ferment process. Usually after 7 days is a good guide to put in the fridge.
Discard fermentation weights or cabbage leaves before serving.  Great with cheese & crackers, over your favourite main meal.
Want to make this sauerkraut recipe the fail safe way?
Pre Register for our Fermentation Kit Launch HERE.
All you need to ferment successfully every time. Recipes & ongoing fermentation support included!
Find me on Instagram @therawfoodkitchen