Easy Plant Based Peanut Slaw with Glass Noodles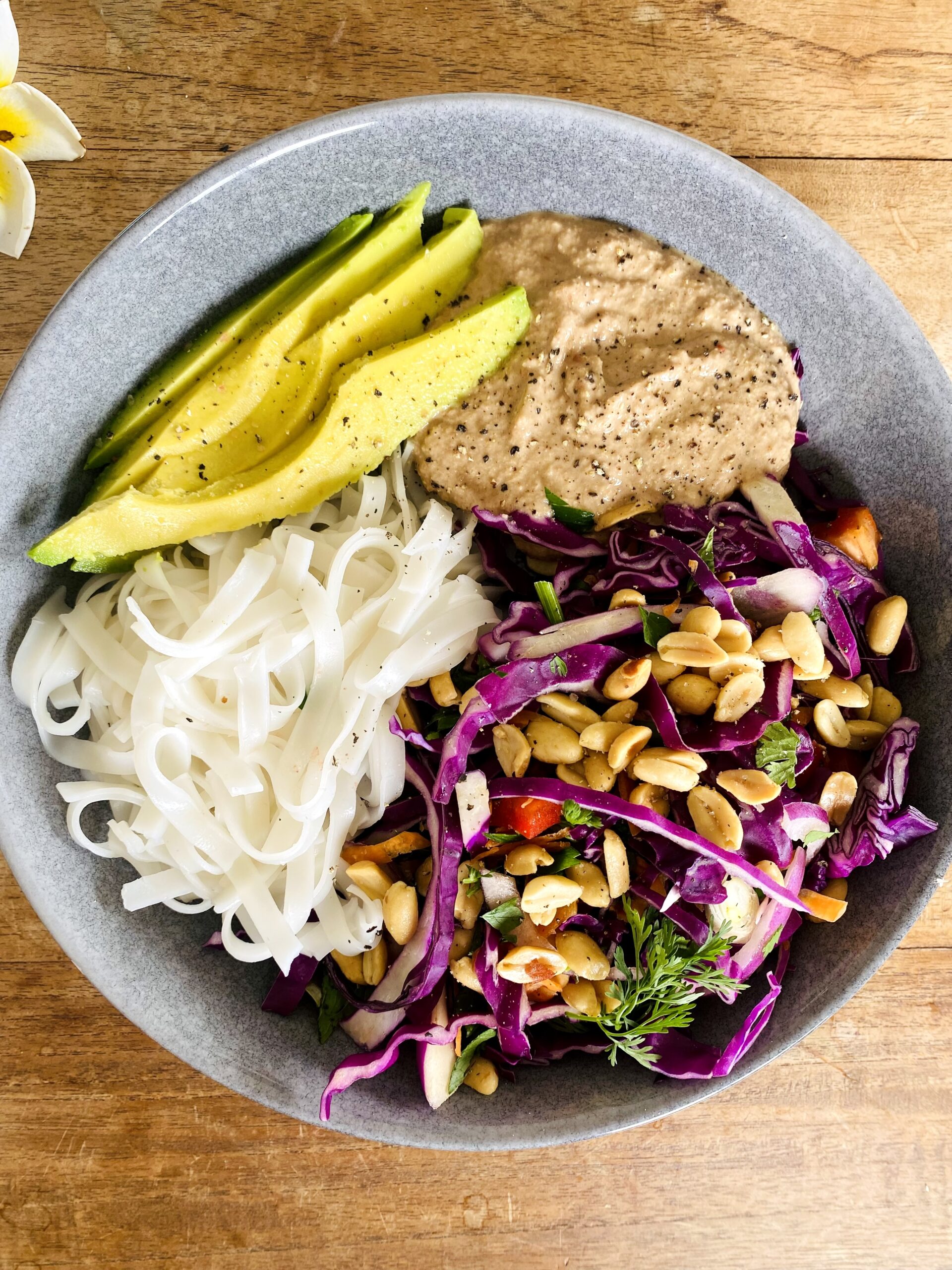 Good, healthy food is just as quick to make as it would be for you to call Uber Eats and wait for your driver to arrive.
Plus you will have plenty of healthy leftovers for lunch!
Do try this recipe, especially if you are new to plant based, or wanting to try – but feel overwhelmed with the prep.
This is minimal time in the kitchen and maximum pleasure time eating!
Try this one tonight, Serves 4:
Ingredients:
1/2 red cabbage, shredded

1/2 punnet cherry tomatoes, sliced in half

1/2 red capsicum, diced

1/4C fresh mint, chopped

1/4C fresh coriander, chopped

1/4 red onion, finely sliced

1/2 bunch chives, chopped

1 carrot, grated

handful peanuts to garnish

sliced avocado to garnish

1 x 400g packet rice noodles, cooked in hot water until soft, drained
Method:
Combine all the ingredients (except for the rice noodles, peanuts & avocado) together in a large salad bowl. Set aside while you make the dressing.
For the Dressing:
1/2C peanuts

1/4C walnuts

juice of 2 oranges

2 cloves garlic

1/4C ACV 

4T maple syrup

1/4-1/2C water

s&p to taste

Method:

Add all to a blender and blend until smooth.  Serve with the salad in individual serving bowls with the dressing & rice noodles on the side with sliced avocado and topped with peanuts.

Add your favourite protein too if you want something more 'meaty'. Tofu or poached chicken would work well here.
Enjoy with 
More on Instagram @therawfoodkitchen