Date & Chocolate Oat Slice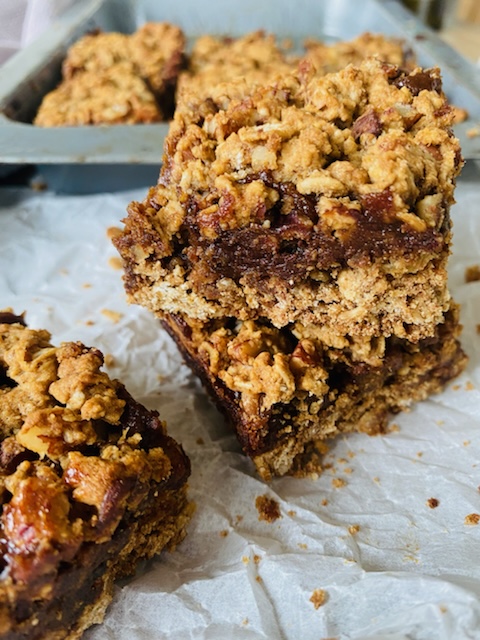 Travelling soon?
Whip up this number up for a healthy snack to take on the plane.
It's filling, tasty, healthy. All dairy free, & gluten free of course.
Hopefully this will stop you buying KitKats at the airport. ;-)
Makes about 12 slices.
Ingredients:
3/4C buckwheat flour

1/2C gluten free flour of your choice

1C coconut sugar

11/2C dates, soaked in hot water 10 mins, drained (reserve some water for blending)

1/2C almond butter

11/4C rolled oats

1/2t baking soda

1/4t salt

1/2C coconut oil (melted)

1/4C coconut milk

1/4C chopped pecans

3/4C dark chocolate, shaved with a knife
Method:
Preheat oven to 180°C. Spray 20cm baking tin with olive oil spray. 
In a bowl add the flour, oats, baking soda, pinch salt. Stir to combine. In a seperate bowl, add the coconut oil, milk, coconut sugar. Stir to combine. Add to the dry ingredients and stir to combine. 
Transfer 3/4 of the mix to the base of the pan. Press down & smooth out. 
Reserve the remainder of the base mix for the topping and add the chopped pecan nuts to it and stir. 
Set aside.
Bake the base for 20 minutes until golden. Remove from oven.
In a blender add the soaked dates, rest of the salt, some of the soaking water and almond butter and blend until smooth.
Set aside.
To the base layer add the shaved chocolate in an even layer.
Then add the date mix as the next layer. Lastly, add the topping and spread out evenly.
Bake in the oven for 15 minutes until golden.
Serve warm or store in fridge in airtight container overnight and then eat.
Yummy this way, great for breakfast on the run or snacks on the plane!
Enjoy with 
More on Instagram @therawfoodkitchen