Dairy Free Gluten Free Eggplant Lasagne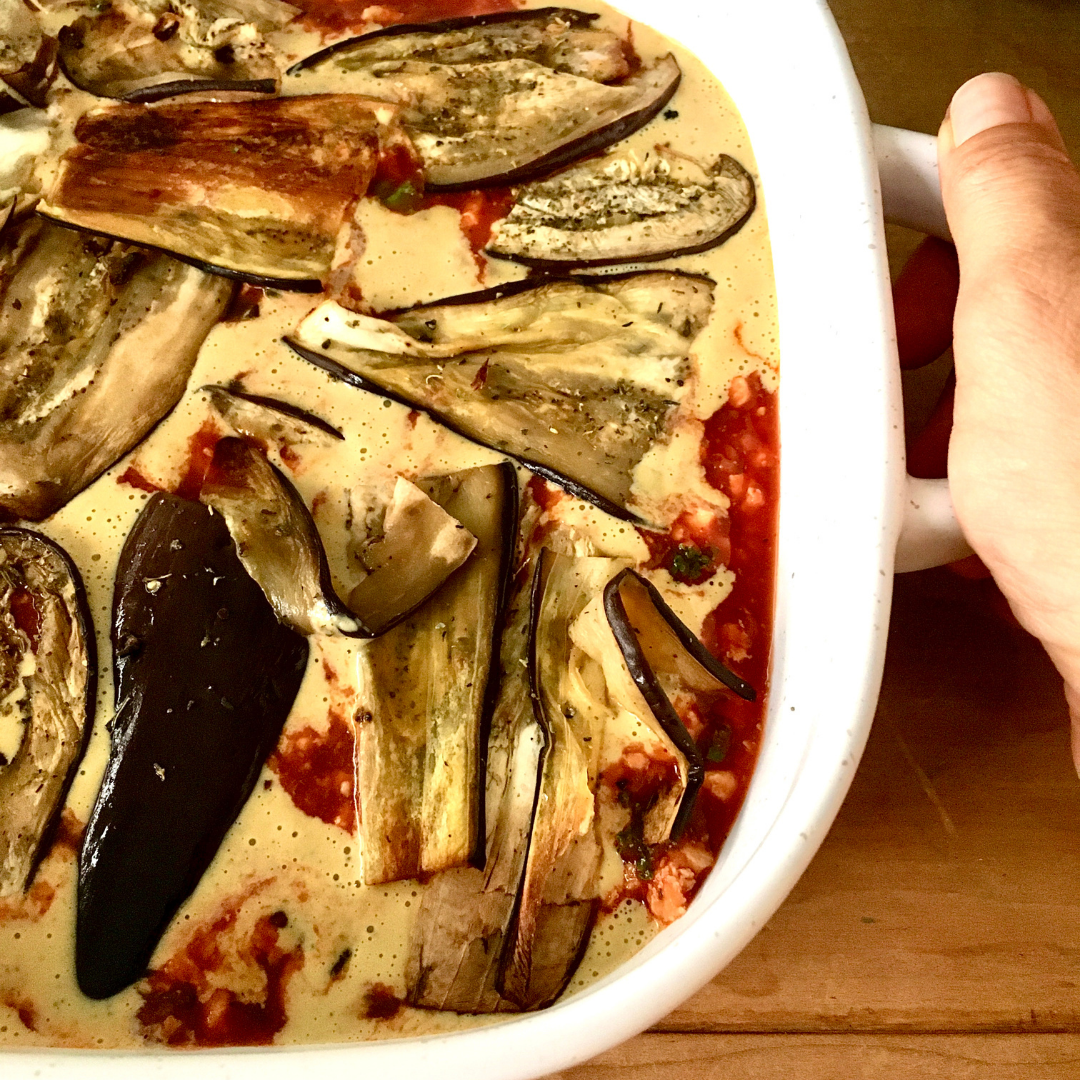 Dairy Free, Gluten Free Eggplant Lasagne
Had lots of requests for this one so here goes:
This uses my Secret Vegan Cheese Sauce as a layer – it's so good!
Ingredients:
500g tempe, or tofu, or 500g red kidney beans OR 500g chicken mince

1 can of organic tomatoes in sauce

2T tomato paste

1 jar organic pasta sauce

2 cloves garlic, chopped

1 large brown onion, sliced

Large handful basil, torn

Optional: 1C mixed diced veges such as carrot, zucchini, celery

1T dried italian herbs

1T coconut oil

s&p to taste

1 large eggplant, sliced and tossed in olive oil, s&p and baked at 180°C for 20 minutes, then set aside. (This is your lasagne sheet layer).
Method:
In a fry pan on medium / high heat, fry off onion until golden, add garlic, optional veges, and cook until soft, then add your choice of protein, cook until golden, then add the tomato paste, can of tomatoes, pasta sauce, s&p, and basil. Cook until flavours have absorbed on medium to low heat, about 10 minutes.
Remove from heat.
Make my secret weapon vegan cheese sauce:
Cheese Sauce Ingredients:
1C cashews

4T nutritional yeast

2T miso paste (I use shiro miso)

2 cloves garlic

2T ACV

1/4C Olive Oil

1/4C water

salt & pepper
Method:
Add all ingredients to the blender and blend until smooth.
Now, in a lasagne dish, add a layer of eggplant, then a layer of your rich tomato sauce ingredients, then a layer of the cheese sauce. Repeat the layering process until all used up.
Bake at 180°C for 30 minutes or until golden and bubbly.
Serve with your favourite veges and salad.
Enjoy with 
More on Instagram @therawfoodkitchen