Creamy Mushroom Pasta Gluten Free Dairy Free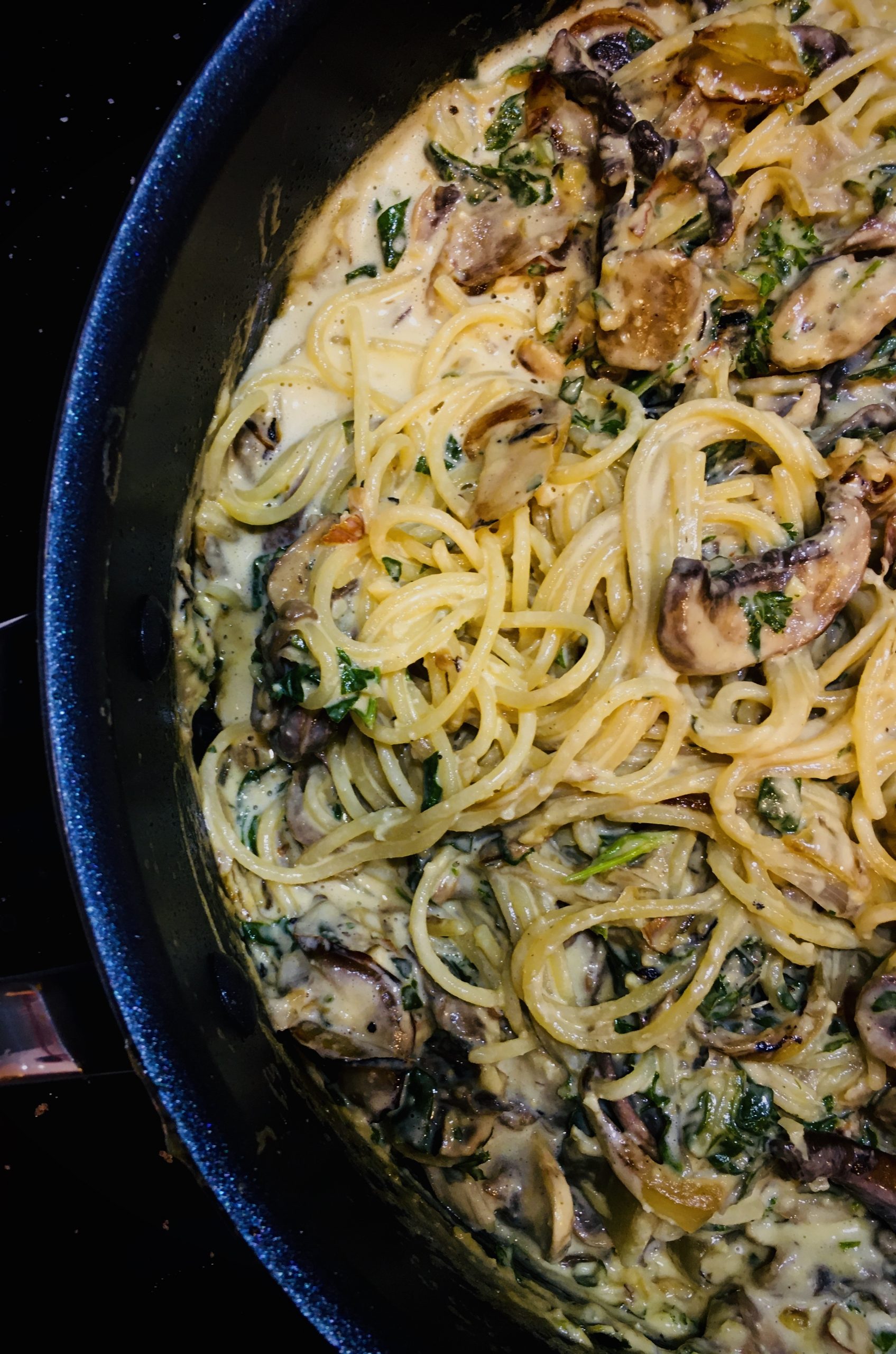 This delish creamy mushroom pasta dish is sooo easy to make and packed full of flavour.
A creamy, cheesy, gluten free, dairy free mushroom pasta that will delight even the most hardened plant based critic (aka hubby).
Have this one made in an instant and enjoy before Monday rolls around!
Serves 4.
Ingredients:
2C sliced brown mushrooms

1C chopped parsley or basil

1C chopped kale or silver beet

3 cloves garlic, finely chopped

1 brown onion, finely sliced

1T vegan butter

1/2C chopped almonds

s&p

1C cashews

4T nutritional yeast

1T miso paste

1 clove garlic, whole, skin peeled

2T ACV

1/4C olive oil or if you have truffle oil this would be amaaaazing here

2-4T water

1T coconut oil

250g gluten free spaghetti
Method:
In a high powered blender jug add the cashews, ACV, nutritional yeast, miso paste, whole garlic clove, s&p, olive oil or truffle oil, the water and blend until smooth and creamy. Set aside while you make the pasta and mushrooms.
In a large pot filled with water and a splash of olive oil, bring to boil and add gluten free spaghetti and cook in boiling water until al denté. Drain and set aside.
In a fry pan melt coconut oil over med-high heat, and add onions and fry until soft and golden. Add the 3 cloves chopped garlic, and stir fry for 1 minute. Add sliced mushrooms and butter and cook over medium heat until mushrooms have changed colour and absorbed some flavour and butter. Add parsley or basil, silver beet or kale, chopped almonds, s&p and stir fry until combined,
Pour in the creamy cheesy mix and add spaghetti. Stir to combine and serve, garnish with fresh herbs and extra chopped nuts.
ENJOY WITH LOVE. <3
Find me on Instagram @therawfoodkitchen