Chocolate Rhubarb Loaf with Chocolate Frosting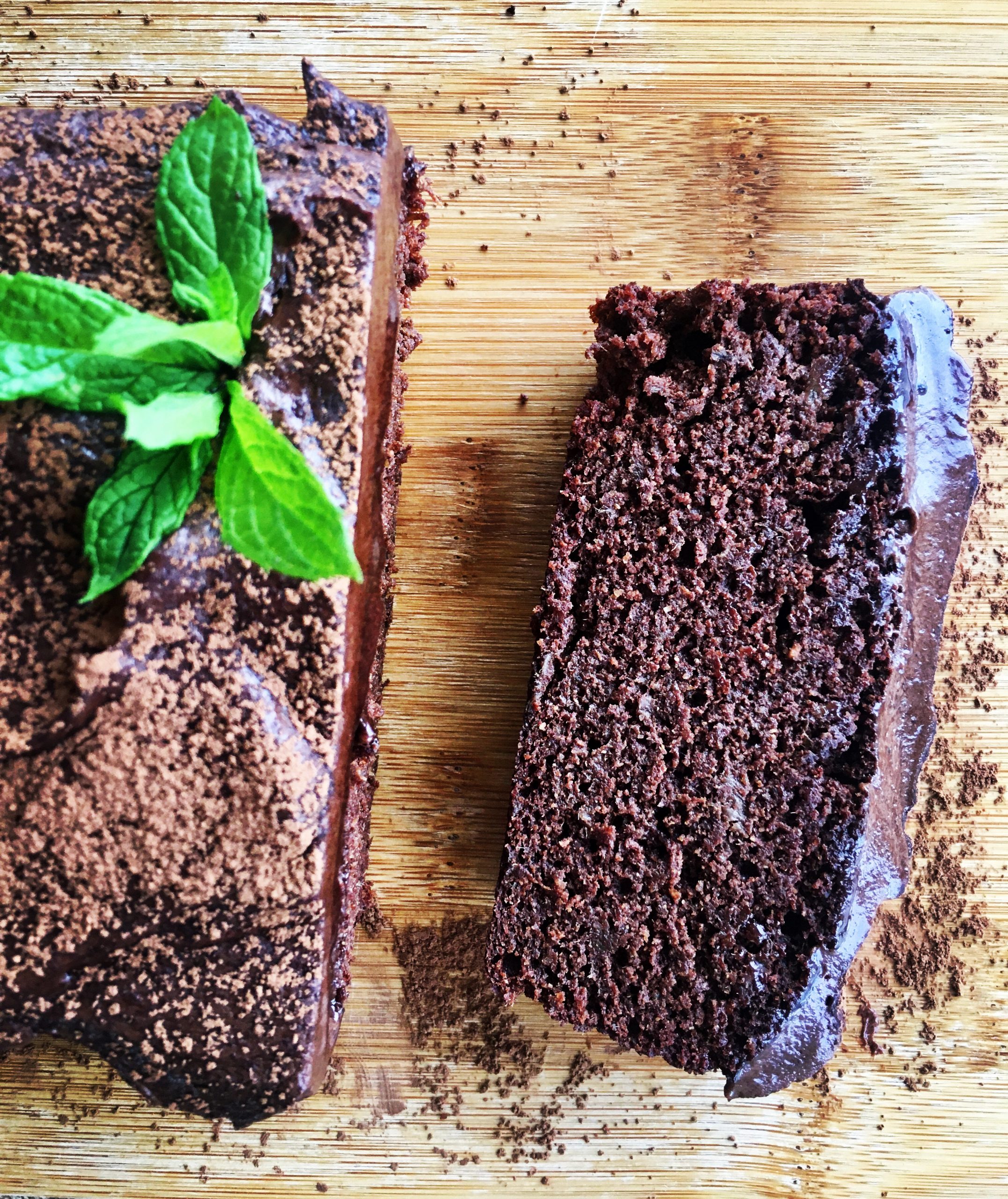 What do you do when it's freezing cold outside and you are in a lockdown in New Zealand? Why, you make a chocolate treat of course.
The fridge was my inspiration again from what was left over and the rhubarb was speaking to me.. so here goes this delightful, healthy sweet treat chocolate rhubarb loaf number. All gluten and dairy free!
Sooo good! <3
Isolation Consolation Chocolate Rhubarb Loaf with Chocolate Frosting here we gooooo…..
Ingredients:
1C gluten free flour (I used half almond meal, half quinoa flour)

1/2C cacoa powder

1/2C coconut sugar

1t baking powder

1t ginger powder

1t cinnamon

1/4t nutmeg

pinch salt

3/4C cut stewed rhubarb (cooked in 1/4C coconut sugar, 1/4C water, pinch salt for 15 minutes)

1/4C raw honey

2T coconut oil

1t vanilla extract

3/4C cashew yoghurt (or coconut yoghurt)
Method:
In a mixing bowl sift all the dry ingredients. Add wet ingredients (honey, coconut oil, rhubarb with it's syrup, vanilla extract and cashew yoghurt) and stir gently to combine.
Pour into a greased loaf tin and bake in the oven at 170°C for 30-35 minutes or until the skewer comes out clean. Allow too cool. Turn cake/loaf out onto cake stand. Set aside while you make the chocolate frosting.
Chocolate Frosting Ingredients:
3/4C or 200g vegan butter, softened

1C icing sugar, sifted

1/2C cacao powder or coco powder, sifted

1/3C maple syrup or raw honey

few drops stevia (optional)

pinch salt

1t vanilla extract
Method:
In a bowl, sift all dry ingredients. Add butter, stevia, vanilla extract and whisk with a stand mixer or electric beater until smooth and thick.
With a knife, spread the frosting on to the cake / loaf. Garnish with fresh berries or extra dusted icing sugar before serving.
This is soooo yummy and moreish but don't feel guilty as there are no inflammatory foods! Only chocolate filled with the loooooove! <3
Enjoy with 
Find me on Instagram @therawfoodkitchen