Banana Fig Protein Slice Recipe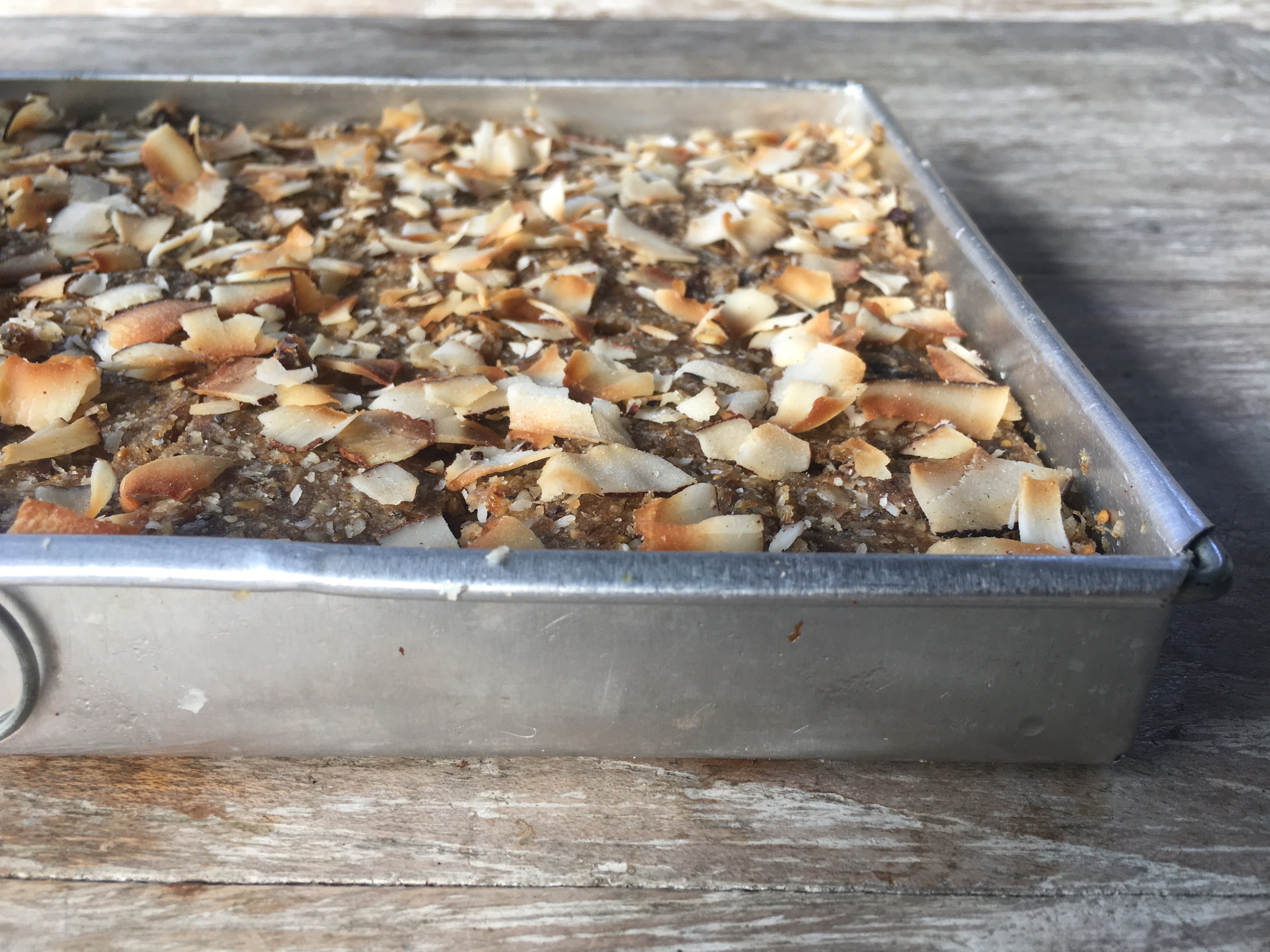 This Banana Fig Protein Bites Recipe came about as I had a bunch of ingredients I wanted to use up in the pantry before leaving Bali and so I could gift yummy healthy goodness to friends.
All vegan, gluten free, dairy free!
I added in a delectable vegan matcha vanilla protein powder to make this one a great post workout recovery slice. Throw it in your bag before leaving the house and use as a healthy recovery meal or snack.
They turned out delish! I invite you, to get creative with what's leftover in your pantry too with this recipe, you can swap out different nuts and seeds, or dried fruits, make it your own, and let me know how you go!
. Makes 20 slices approx.
Ingredients:
1C walnuts

1C almonds

1/2C pumpkin seeds

1/2C sunflower seeds

1C shredded coconut

1C dried figs sliced (soaked 20 mins, drained)

1/2C raisins (soaked 20 mins, drained)

1 mashed banana or 1 dropperful of Medicine Flower Banana

1/4C cacao nibs

1/4C cacao butter (melted)

1/4C coconut oil

1/2C almond pulp (optional)

pinch salt

1/4C sweetener of your choice (like coconut nectar)

1t vanilla extract or 1 dropperful Medicine Flower Vanilla

1T vegan protein powder

1T maca powder

1/2C roasted coconut flakes (optional) to garnish
Method:
Add all ingredients except the garnish ingredients to the food processor and process until combined. I like to leave it slightly chunky so you still have texture and crunch in the slice. Adjust to taste.
Pour out into a 20cm slice tin and press firmly and even out. Garnish with roasted coconut flakes, or even drizzle with chocolate sauce! Cut slices up into squares. Place in fridge or freezer to set for an hour.
Serve straight from the fridge. This is a delicious filling after workout snack, or for when you have a sweet craving and need something healthier. Enjoy! <3
Enjoy with ❤️Find me on Instagram @therawfoodkitchen