Bali Roasted Coconut Bliss Balls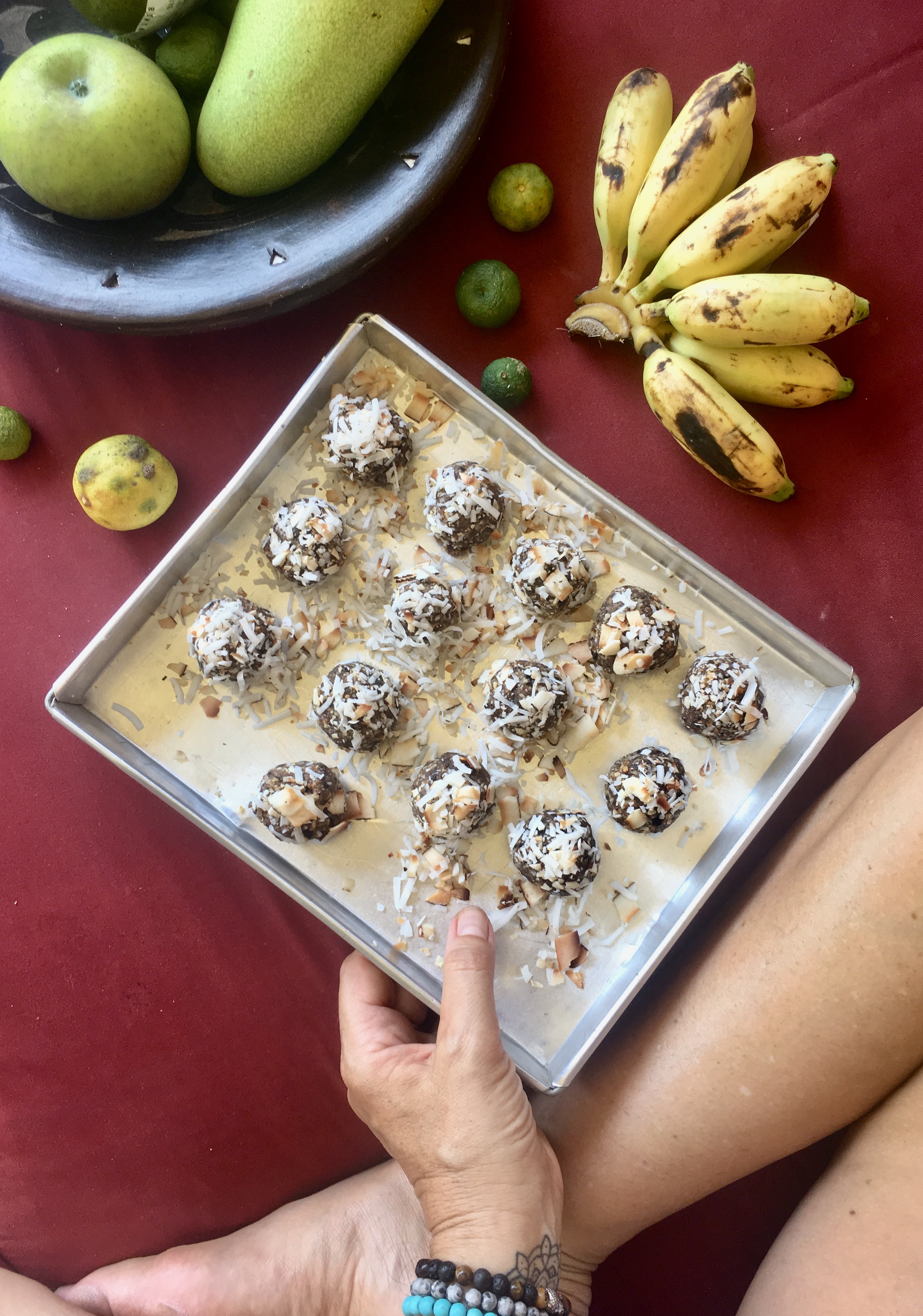 These Bali Roasted Coconut Bliss Balls are little balls of coconut goodness.
I get so inspired to use coconut in recipes when in Bali so hopefully with this one, I'm bringing a little taste of the tropics for your eating pleasure!
I absolutely adore coconut anything and in Ubud we are blessed to have Tuki's coconut shop. There they sell everything coconut. Coconut smoothies, coconut ice cream, coconut desserts, cakes and bars, coconut butter and best of all roasted coconut flakes – my favourite!
This is what makes these bliss balls so special, the roasted flavour of the coconut. You can find roasted coconut at most supermarkets these days. If you can't, plain shredded coconut is fine too. Makes 16 balls approx.
Ingredients:
1/4C dates, soaked 20 minutes to soften, drained

1/4C prunes, soaked 20 minutes to soften, drained

1/4C almonds

1/4C walnuts

1/2C shredded coconut

1/2C roasted dried coconut + extra for rolling in (crushed)

1C chickpea flour

1t cinnamon

1T coconut nectar
2T coconut oil
2T lime juice
2T almond butter
8 drops Medicine Flower Coconut Extract (optional)
pinch salt
Method:
Combine all ingredients in a food processor (except for extra roasted coconut for rolling in). Process until breadcrumb like but sticky. 
Using a measured Tablespoon scoop out and roll into balls. Toss in crushed roasted coconut and place in fridge to set for 30 mins. Serve straight from fridge for a softer experience or from freezer if you want more crunch. Sooo delish! <3
Enjoy with ❤️Find me on Instagram @therawfoodkitchen
PS. If you would like to experience what it's like to go raw for 7 days with easy, no fuss, yummy recipes check out my 7 Day Raw Food Plan here. Meal Plan, recipes, done for you shopping list, bonus recipes, videos and more from  me! It's the most delicious detox for your mind, body and soul!