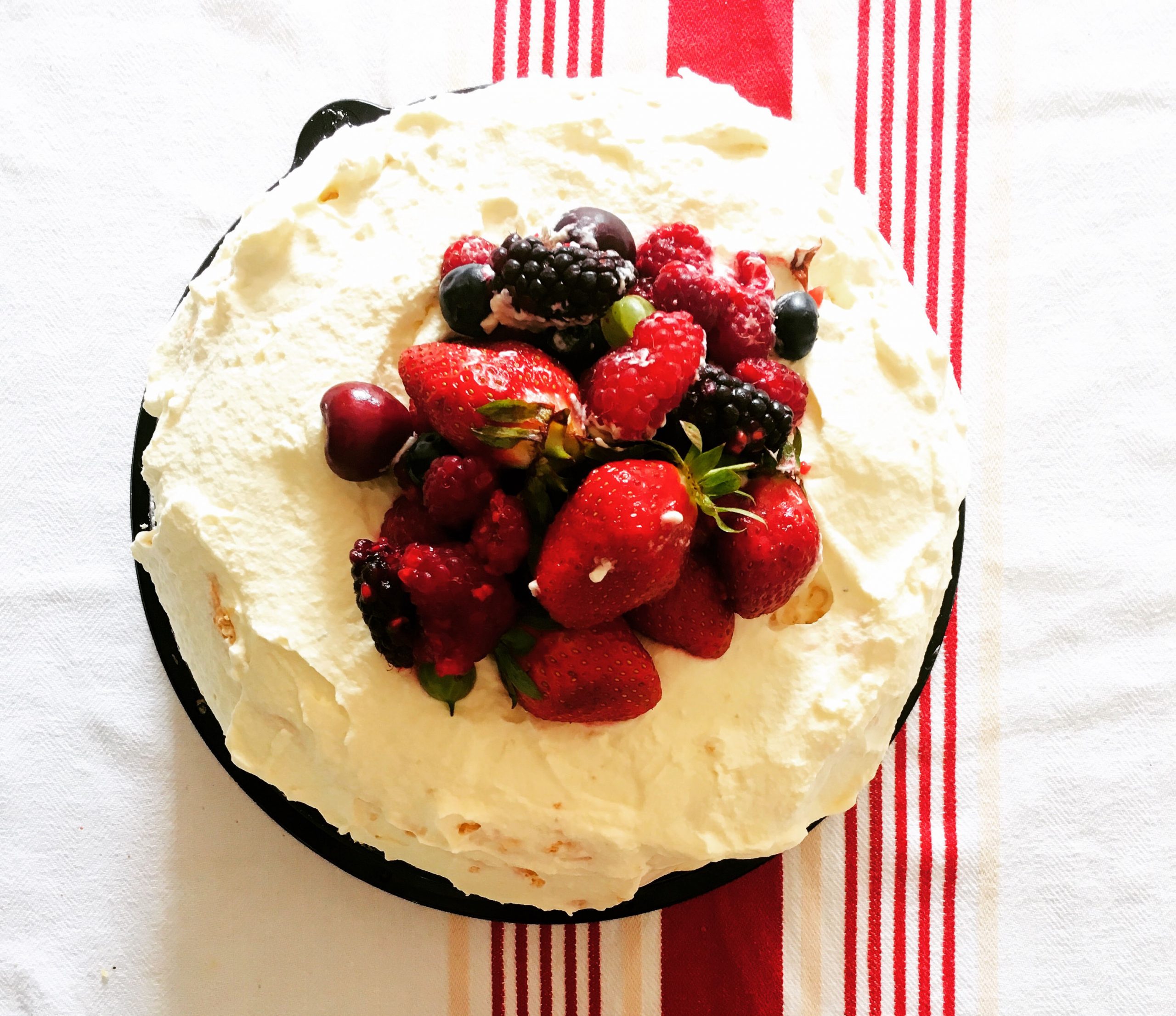 A must on any Kiwi / Aussie dessert table is Pavlova and it's no secret that our family is in LOVE (actually addicted) to Pavlova but it's incredibly unhealthy – a ton of sugar and cream is used to make it. So here's an upgraded version of the sugary, dairy cream laden version..  using chickpea aquafaba and xylitol (sugar free) as replacements.
Ingredients:
400ml can coconut cream

400g can chickpeas

3/4C powdered xylitol

1T arrowroot

2T maple syrup

1t vanilla extract

Mixed berries & cherries to serve
Method:
Put coconut cream in the fridge and chill overnight. Drain the chickpeas, reserving the canning liquid (aquafaba). Place the chickpeas in an airtight container and pop in fridge for another use. Chill the canning liquid for 2 hours or until cold.
Preheat oven to 150°C and line baking tray with baking paper. When canning liquid is cold, transfer to a stand mixer fitted with whisk attachment and whisk for 5 minutes or until mix turns to soft peaks. Add Xylitol, 2T at a time, whisking constantly for 15 minutes or until sugar is completely dissolved.
Whisk in the arrowroot. Crest one large meringue in the middle. Place in the oven and immediately reduce oven to 100°C. Bake for 1 hour 15 minutes or until outside of meringue is firm and crisp. Turn off oven and leave meringue to dry out in the oven for 4 hours or overnight.
The next day, place chilled coconut cream in a clean stand mixer fitted with the whisk attachment. Whisk to stiff peaks, then turn mixer to low speed and whisk in the maple syrup and vanilla. Spread coconut cream mixture over meringues and pile up mixed fresh berries and cherries on top. 😋
** BUSHFIRE DONATIONS ** Please donate if you can to @redcrossau @thesalvationarmy @australiankoalafoindation
Enjoy with 
Find me on Instagram @therawfoodkitchen