Tahini Buckie Bars with Chocolate Topping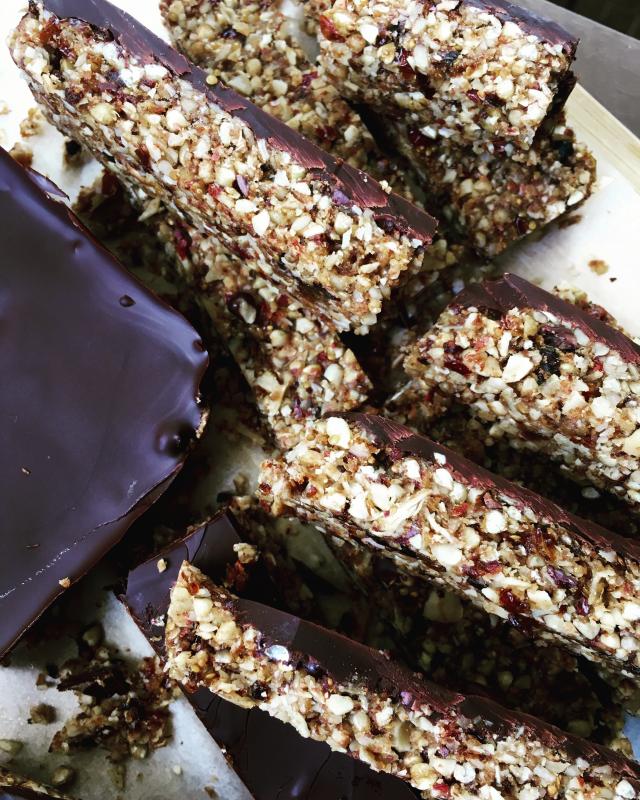 These Tahini Buckie Bars with Chocolate Topping are divine! Gluten free, delicious & satisfying, these Tahini Buckie Bars will have you rocking through your day – less the bloat and blahs from a store bought commercially produced muesli bar.
You can make them nut free too if you wanted to omit the hazelnuts.
Ingredients:
2T coconut oil

1C dates

1C activated hazelnuts

2C activated buckwheat (soak 20 minutes, drain and dehydrate till dry or on a tray in the oven 20 minutes at 180°C)

1/2C shredded coconut

4 dried figs

1/4C cranberries

1/4C inca berries

1/4C cacao nibs

6T tahini

1t salt

300g 70% organic dark chocolate, melted over bain marie with 1T tahini
Method:
In a bowl with hot water soak dates, figs, cranberries, inca berries until soft. Drain, and add to a food processor with S blade. Also add to food processor the hazelnuts, buckwheat, coconut, 5T tahini, salt. Pulse until combined so it resembles large breadcrumbs, or even chunkier than that if you like. Adjust to taste. Ensure it 'sticks' by grabbing a piece and rolling it in your hand in a ball. If it holds, it is ready to be transferred to a baking paper lined slice tin. Press down firmly with your hands. To top it off, pour the melted chocolate over the base and place in fridge to set for 10 minutes. Slice up and serve bars with a sprinkling of salt for extra bite.
Enjoy with 
Find me on Instagram @therawfoodkitchen