Swiss Chard & Roasted Capsicum Quiche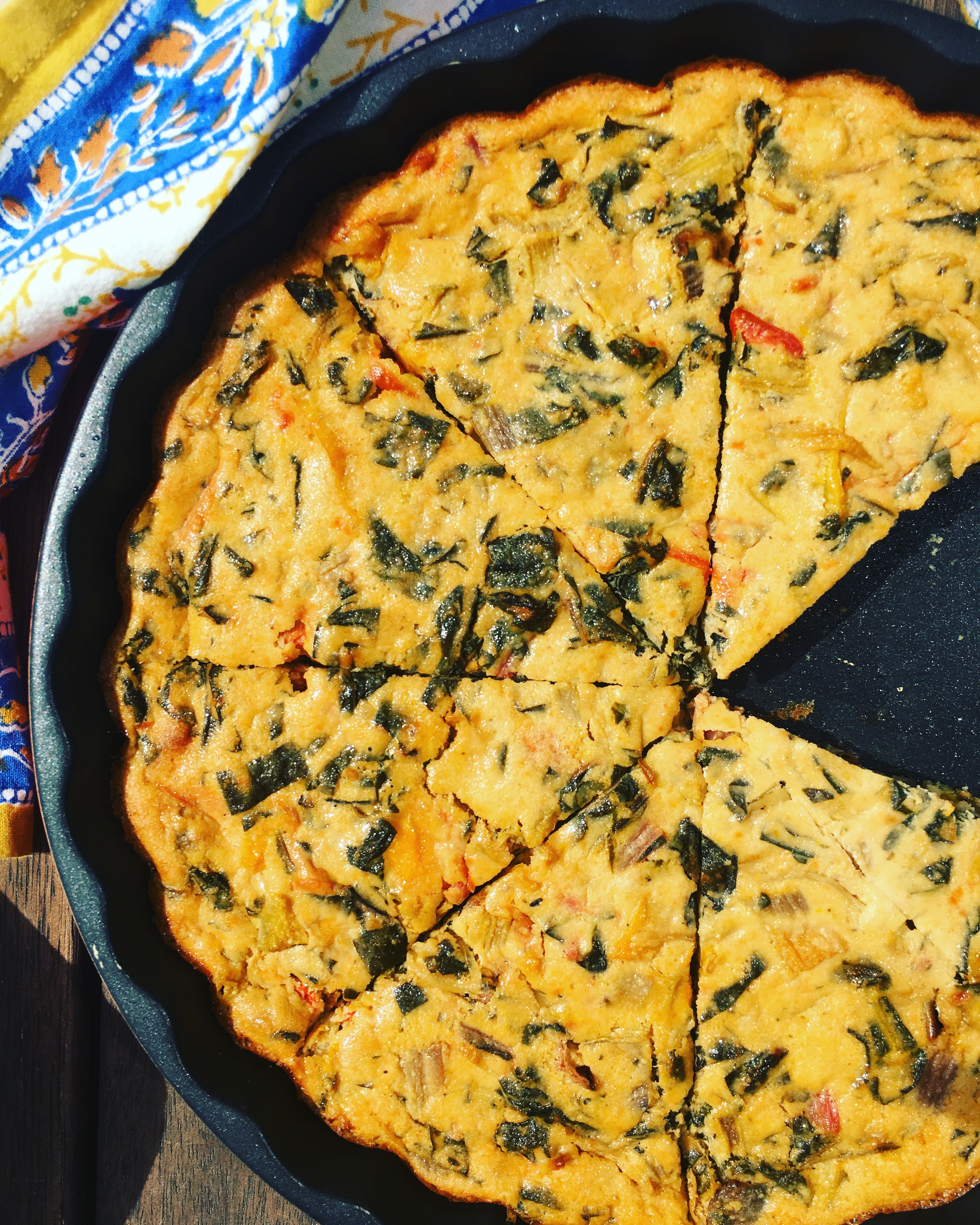 This Swiss Chard & Roasted Capsicum Quiche is inspired by the abundance of rainbow swiss chard (silverbeet) in my Mum's garden, it was just calling for a quiche!
So here goes, a healthy, delicious, gluten free, quiche with vegan options.
Ingredients:
11/2C cashew milk

3 organic eggs or 3 flax eggs

50g melted organic butter or 50g melted coconut oil

1C gluten free flour (I used a mix of buckwheat & rice flour)

1T olive oil

1T coconut oil

1 brown onion, sliced

1 red onion, sliced

1 clove garlic, chopped

1 red capsicum, sliced

1 yellow capsicum, sliced

2 vine ripened tomatoes, cut into quarters

2C rainbow swiss chard, chopped

1T mixed italian herbs dried

s&p to taste
Method:
In a roasting pan, toss red onion, red and yellow capsicum with olive oil, dried herbs and s&p, roast at 190°C for 30-40 minutes or until cooked, golden and a bit crispy. Allow to cool & set aside.
In a frypan, add 1T coconut oil and over medium heat cook brown onion until golden, add garlic, stir fry for 1 minute, then add tomatoes, cook tomatoes down slightly. Add rainbow swiss chard and stir over low heat until all ingredients combined and softening. Add s&p to taste.
In a bowl add flour, then add milk, eggs, butter or coconut oil, s&p and stir to mix.  To the bowl add the swiss chard mix from fry pan, and the roasted capsicums and onion. Stir to combine.
Pour into greased flan pan, and bake at 180°C for 40-50 minutes. Serve with a fresh garden salad. YUMMY!
Enjoy with 
Find me on Instagram @therawfoodkitchen