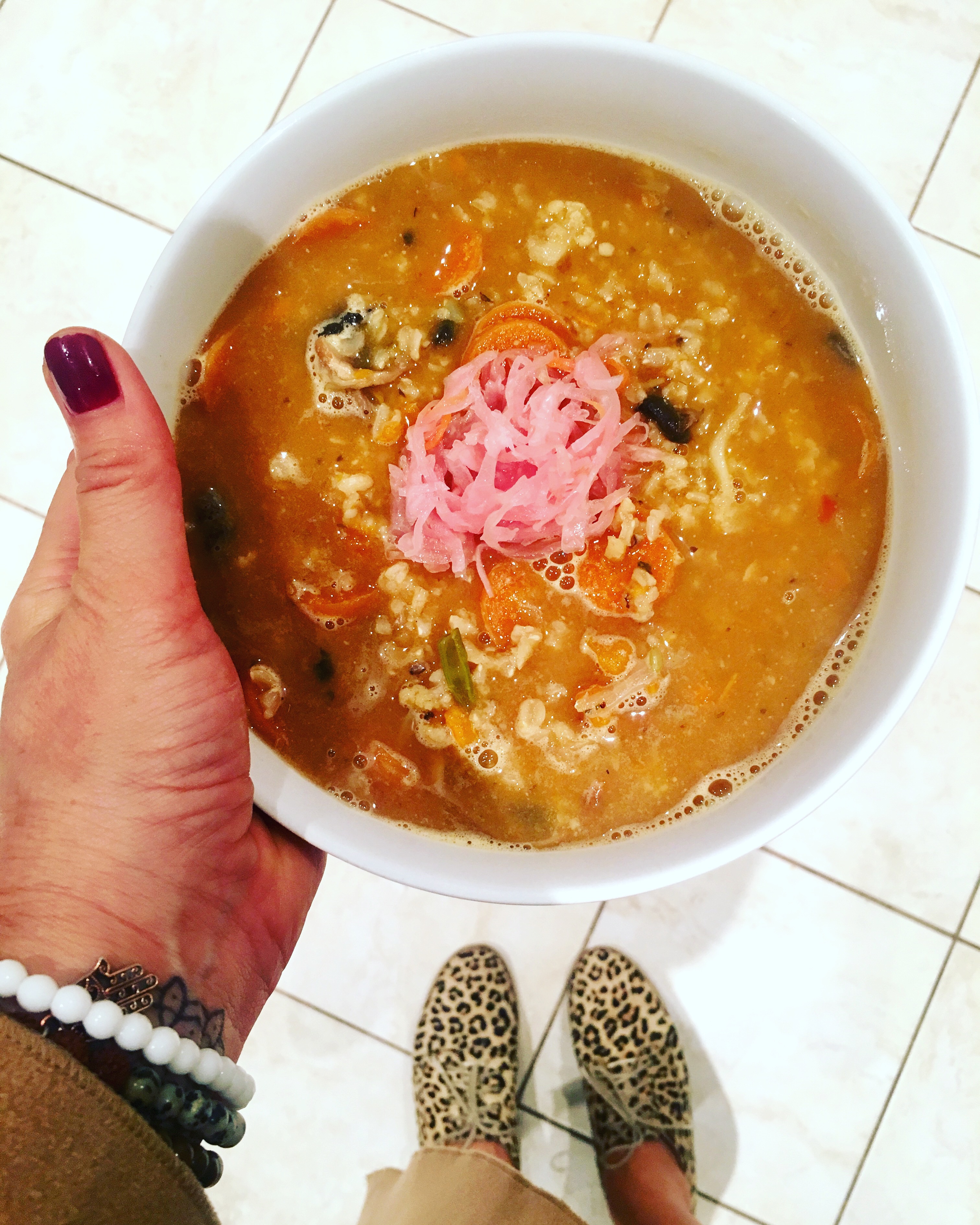 I'd been dealing with some gut issues that weren't resolving after throwing all my usual tool kit tricks at it.
I was also craving food constantly and could not stop eating.
Turns out my gut issues are originating from my Spleen! So I've been making and eating this delicious Spleen Qi Soup to help heal. 
If you have gas, bloating that's not resolved by a gut healing program, constant dehydration, change in bowel movements, have certain cravings, and know you're not dealing with life stressors ie. suppressing or avoiding emotions or find yourself over thinking or worrying, time to take a deeper look at what's going on in the body…and this Spleen Qi Soup could be just what the doctored ordered:
Ingredients:
Serves 4
1C brown rice

1L bone broth – see VEGAN option below

3 carrots – sliced

2 medium chopped potatoes, or 2C chopped sweet potatoes

1C green beans, chopped

1C mushrooms, sliced

1 onion, sliced

2 cloves garlic, chopped

1T chopped ginger

1T coconut oil

salt

Optional: 1T astragalus
Method:
Heat oil in soup pot and add onions, garlic, ginger, over medium heat cook till slightly caramel. Add veges and stir fry until partially cooked.
Add brown rice and bone broth and simmer for 30 mins until rice cooked through. Add astragalus and stir through if using.
Adjust to taste and serve in a soup bowl and for the ultimate garnish for this soup, top with Sauerkraut for added digestive goodness.
VEGANS – Try using 2T miso paste in 1L filtered water instead of bone broth. You may want to adjust depth of flavour by adding more miso during cooking process. 
.
Enjoy with ❤️Find me on Instagram @therawfoodkitchen