Raw Vegan Lemon Coconut Protein Bites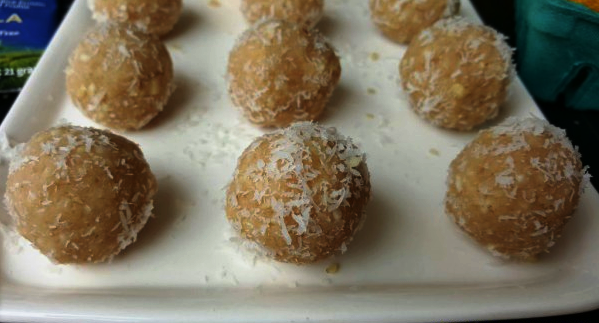 Contributed by Recipe Developer Christine Roseberry
of Just Glowing with Health.
I love these lemon coconut protein balls because they're the perfect snack to bring with you to work or on the run. They're sweet and energising, satisfying and filled with protein. They taste like a yummy dessert without the guilt!
Ingredients (makes approx 15 balls):
2/3 cup cashews (or macadamia)
2/3 cup shredded coconut
1/4 cup Sun Warrior Vanilla protein powder
3 tablespoons lemon juice
2 tablespoons coconut butter
1 tablespoon maple syrup (add more for desired sweetness)
Method:
Process the cashews in a food processor until it's a fine to coarse mix.
Add the rest of the ingredients and blend until it turns into a crumbly sticky dough.
Scoop out using a melon ball scooper (or a tablespoon) and roll into bite size balls.
Roll in shredded coconut or hemp seeds.
(optional)  Place in the freezer for about 30 minutes to harden.
NOTE: You can substitute with brand of vanilla protein as desired. If you choose not to use protein powder simply  increase the coconut and cashew measurements to 3/4 cup instead of 2/3 cup. Coconut butter can be substituted with coconut oil. Maple syrup can be substituted with sweetener of choice.