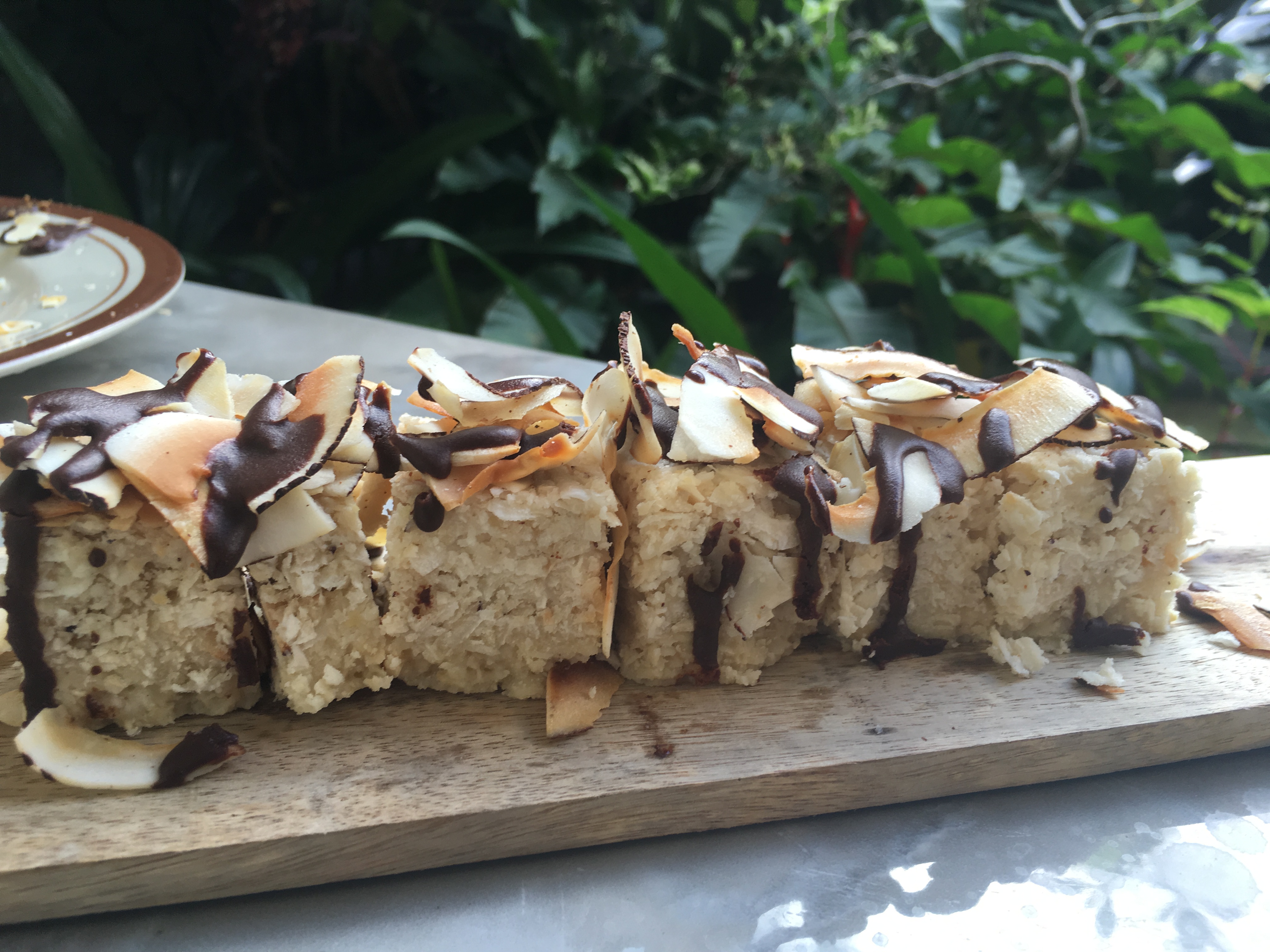 Inspired by the Balinese who find a million ways to use yummy coconuts. This is a major hit of heart loving. Enjoy making and eating them!
Makes approx 12-16 slices.
Ingredients for the base:
Method:
Place all ingredients in the blender and using the tamper work the mix on low until its a fine sticky breadcrumb like texture. Place in a baking paper lined slice tin, and flatten out with your hands so it smooth and about 1-2cm thick. Place in fridge to set while you work on the filling.
Ingredients for the filling:
1/2C coconut milk or cream (if in a hurry – organic milk or cream in a BPA free can)

3C shredded coconut + reserve 1C for stirring in

1/2C cashews

2T coconut butter (melted)

1T coconut oil (melted)

splash of lemon juice

12 drops Medicine Flower Vanilla Extract

1t coconut essence or 12 drops Medicine Flower Coconut Extract

1T Xylitol (a sugar fee alternative – powdered in the blender)

pinch salt
Method:
Place all ingredients in a high powered blender except for the cacao butter and coconut oil and blend on low until just combined. Add cacao butter and oil and blend again until combined. Stir in remaining shredded coconut. Remove base from fridge and pour the filling on top and flatten out so its even. Place in fridge or freezer to set for 4 hours or overnight.
Remove from fridge and optionally garnish with extra shredded or roasted shredded coconut and then drizzle over chocolate sauce. Set in fridge for 10 mins before serving
Quick chocolate sauce recipe: Mix equal parts (I used 3T of each) of coconut palm syrup (or other sweetener of your choice), coconut oil (melted) and cacao powder, plus pinch of salt and 10 drops of Medicine Flower Vanilla. Pour into a squeezy bottle to drizzle over topping.
Enjoy! <3
Want The Raw Food Kitchen hard cover recipe book? Grab your copy here!
With love from The Raw Food Kitchen