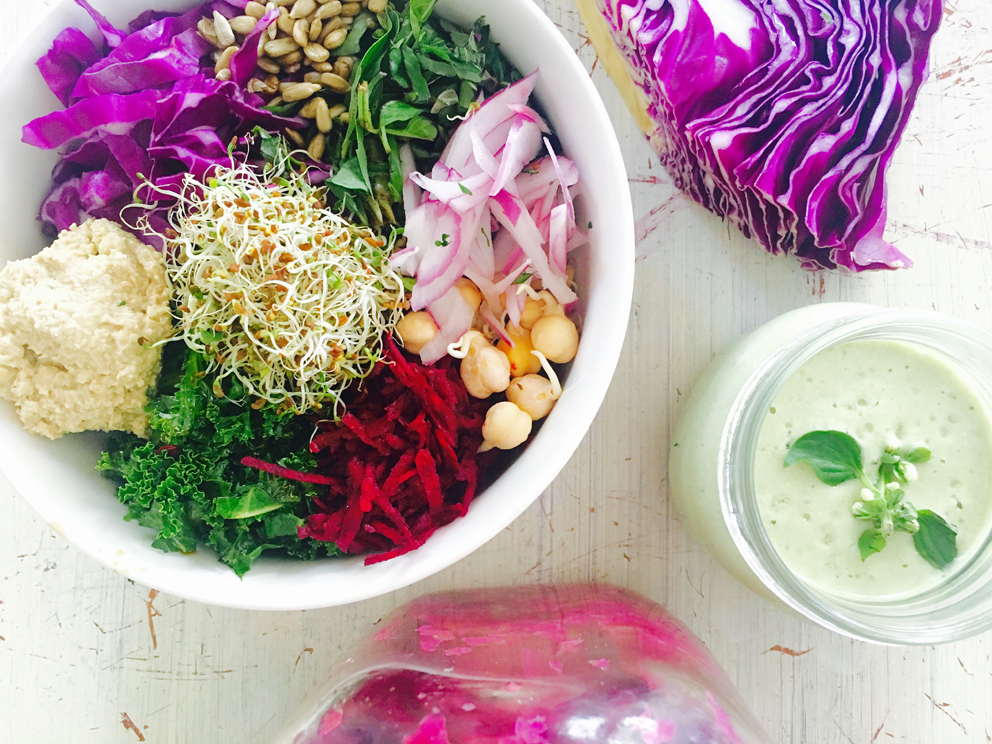 This Purple Buddah Bowl is a great recipe to use up whats in the fridge! I happened to have lots of purple stuff. Beetroot, purple cabbage, purple (red) onion and purple sauerkraut. Throw in some greens, sprouts, seeds, chickpea hummus and you have a healthy lunch! I also made a yummy dressing with coconut yoghurt and sauerkraut that was left over in the fridge too! See below for recipe. Enjoy!
Ingredients (makes 1 large bowl):
Handful kale, finely sliced and place in a seperate bowl with 2t tamari, 1t honey and 1t olive oil, massage in 

handful basil, rough chop

1/4 cucumber, diced

1/2C sprouted chickpeas or other sprouts of your choice

1/4C alfalfa sprouts or other sprouts of your choice

1/2C red cabbage, finely sliced

2T purple sauerkraut (optional, unpasteurised, raw)

1/2C beetroot, grated

1/4 avocado, sliced (hiding underneath the alfalfa sprouts)

2T sunflower seeds

2T red onion, sliced

Optional: 1/4C chickpea hummus or other dip or dressing of your choice

Optional: Serve with Fermenting Addicts Dressing – see below

Olive oil, salt and pepper to garnish
Method:
Get a big pretty bowl and segment each ingredient out around the bowl. Garnish with avocado and alfalfa sprouts in the middle. Serve with Fermenting Addicts Dressing! 
Fermenting Addicts Dressing (makes approx 250ml+):
4T apple cider vinegar 

1T sauerkraut (unpasteurised, raw)

4T coconut yoghurt(unpasteurised, raw)

2T fresh dill

2T agave

2T olive oil

1T miso paste

1t salt

1/2C cashews

water to blend (approx 1/2 – 1C)
Method:
Add all ingredients to the blender and 1/4C water to start. Blend to combine and add more water till you reach your desired consistency. Adjust to taste. Serve with Purple Buddah Bowl and make your tummy smile!
SO much good bacteria in this recipe your tummy and your mind will be feeling fine in no time! :)
Much raw love! <3