Pumpkin Seed & Basil Raw Vegan Bread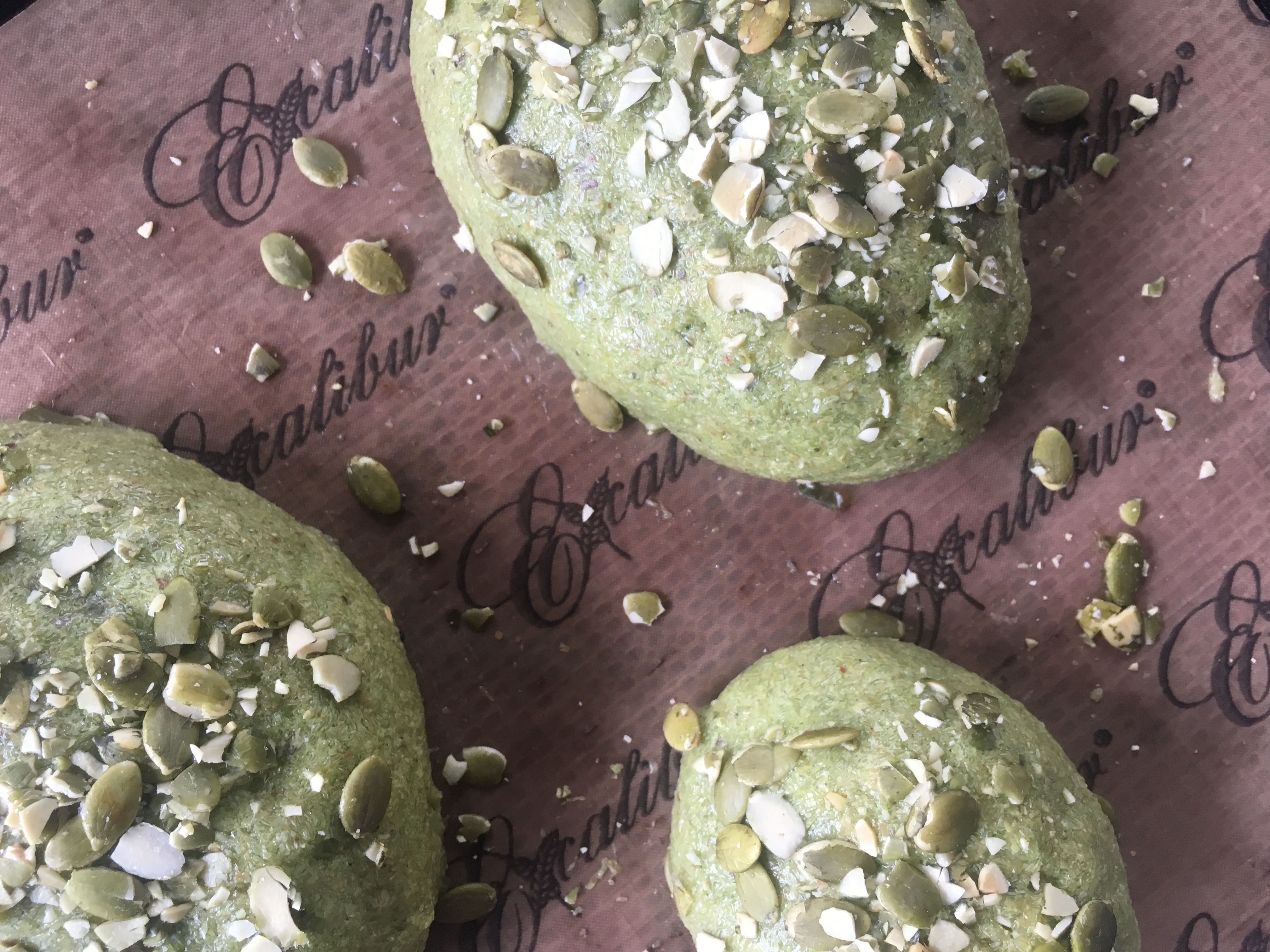 This bread is gluten free, dairy free. I've added superfood basil for digestion and pumpkin seeds with tryptophan to help you with sleep.
This pumpkin seed & basil raw vegan bread is super healthy, high in fibre and has a lovely sponginess to it. No nasty white rice flour here! 
This is a staple in my home, I use it to spread delicious plant based cheeses over with some fresh cherry tomatoes, or a dip or pesto.
If desired, you could make a flatter version of this and use it as healthy replacement for sandwich bread.
Makes 6 small loaves.
Ingredients:
1C psyllium husk

2C soaked and dehydrated almonds, ground to flour in food processor OR 2C almond pulp

2 cloves garlic

1C white onion chopped roughly

1C chopped zucchini

1/2C flax meal

Juice of half a lemon

2T fresh basil

1C pumpkin seeds (reserve 1/2C for garnish)

1t himalayan crystal salt

1/4C filtered water and more to add if necessary
Method:
Roughly chop the pumpkin seeds. Add 1/2C of the seeds to a bowl, add flax, salt, and pysllium husk. Stir through to combine. Into a blender add rest of ingredients and process until liquid.
Add liquid to bowl with the rest of the ingredients. Add 1/4C water or more and stir through to make a dough. Add more water as necessary to get the dough to stick together.
Mould into loaf shape and place on dehydrator tray. Sprinkle loaves with remaining pumpkin seeds. Dehydrate at 130°F one hour and then turn down to 110°F. Dehydrate for approximately 12 -24 hours.
* Oven method: Place in a preheated 180°C oven and bake for 15-20 minutes. Or until skewer comes out clean.
Enjoy with ❤️Find me on Instagram @therawfoodkitchen
PS. If you would like to experience what it's like to go raw for 7 days with easy, no fuss, yummy recipes check out my 7 Day Raw Food Plan here. Meal Plan, recipes, done for you shopping list, bonus recipes, videos and more from  me! It's the most delicious detox for your mind, body and soul!