Millet & Pumpkin Stir Fry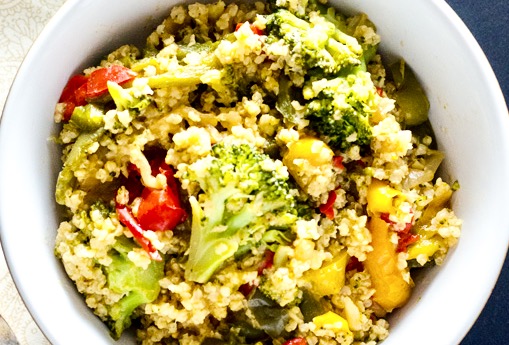 Millet is another great gluten free grain, that is simply waiting to have its hey day like Quinoa. Full of essential fats, B vitamins and minerals, with complex carbs it has a lovely creamy corn like flavour. This Millet & Pumpkin Stir Fry is a raw / cooked fusion dish.
Perfect for a winter evening. :)
Makes approx 4 serves:
1T coconut oil

1C millet – soaked for 10-20 minutes, drained, then cooked with 2C water, pinch salt over medium heat until water evaporated, stirring often

1 small jap pumpkin, finely sliced

1/2 head brocolli, broken into florets, lightly steamed, drained

1 small brown onion, finely sliced

1 clove garlic finely sliced
2t ginger, finely sliced
2t turmeric root, finely sliced

1/2C basil, chopped

1C baby spinach
1/2C cherry tomatoes
1 fresh lime – juiced

salt and pepper to taste
Method:
Heat frying pan, add coconut oil and onion, stir fry on medium heat until cooked through. Add garlic, ginger, turmeric and stir fry for one minute. Add pumpkin, and stir fry until cooked through. Add millet, brocolli and stir through. Add lime juice and stir through. Turn off heat and stir in basil, spinach, and cherry tomatoes. Add salt and pepper to your liking. Serve and enjoy :)
PPS. Want a copy of The Raw Food Kitchen Book so you have your very own hard copy recipe book to start making rawsome recipes from? Grab your copy here!
PPS. If you would like to experience what its like to live the raw vegan lifestyle, detox and gain more energy in just 7 Days try my 7 Day Raw Food Plan! 
All recipes, meal plan shopping lists, videos & bonus material, plus our community on the private Facebook Group page included.
With love from Amanda and The Raw Food Kitchen <3