Kiwi Mango Crumble Dessert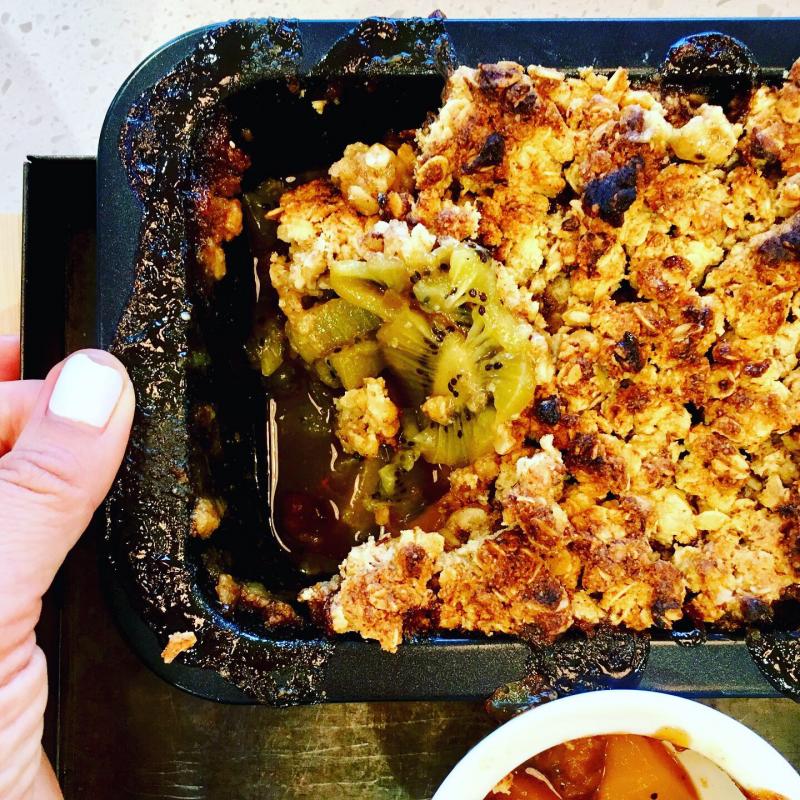 I got inspired to make this Kiwi Mango Crumble Dessert while in NZ as Kiwi fruit is in abundance and it's Mango season in Australia so what better way to combine these two luscious fruits than in a delicious crumble dessert!
It is seriously addictive we demolished the first batch and I am about to make a second batch now I am back in Aus – although Kiwifruit is a little pricey here. 
Make for your Aussie mates or your Kiwi cuzzies!
Serves 8. Here is the recipe:
Ingredients:
1/2C gluten free flour

1/2C almond meal

1C oats – or 1C mixed, chopped nuts or seeds of your choice if you prefer

2T coconut sugar

1t baking powder

1t cinnamon

1/t clove powder

1/4t nutmeg

1/4C organic butter or coconut oil

3/4C coconut sugar

1T arrowroot

2C sliced mango

3C sliced kiwi

1/4C water

pinch salt

1 flax egg blended with 1/2C almond or cashew milk (set aside)
Method:
Preheat oven to 200 degrees celsius. In a mixing bowl add: Flour, almond meal, oats or chopped nuts and seeds, 2T coconut sugar, baking powder, salt, cinnamon. Cut in butter or coconut oil till it resembles a crumble. Add flax egg and milk mix and stir to combine. Set aside.
In a saucepan add 3/4C sugar, arrowroot, mango & water, pinch salt, rest of spices. Cook over medium heat till sauce is thick, stirring all the time. Add sliced kiwi and stir until heated through. Remove from heat.
Transfer fruit filling to greased loaf tin or square 8" baking tin and press down until top is smooth. Spoon topping over, and ensure the fruit filling is well covered. Bake 20 minutes or until golden. Serve with coconut yoghurt. :)
Enjoy with 
Find me on Instagram @therawfoodkitchen