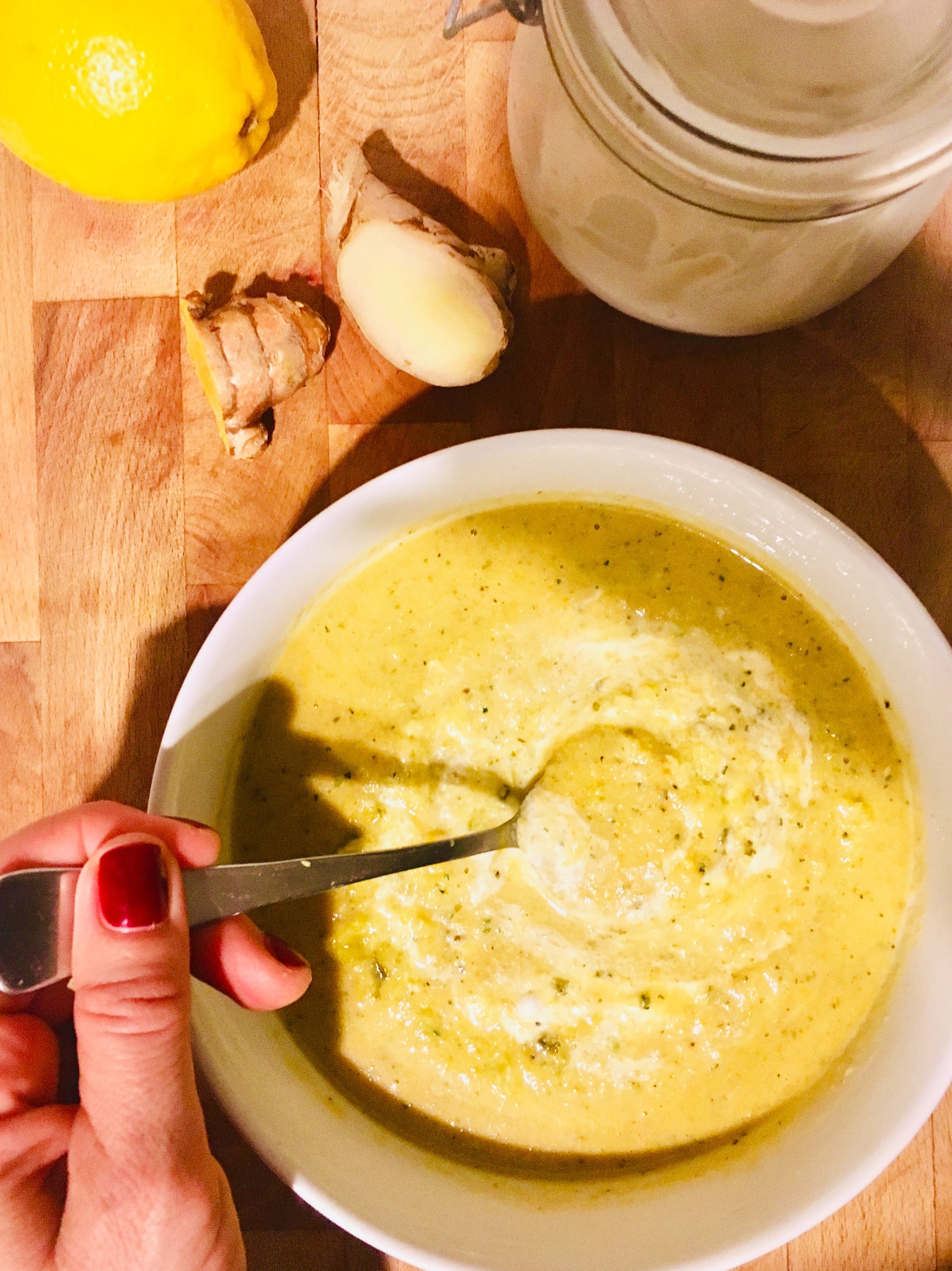 I made this Gut Loving Soup Recipe last week because I am having a flare up of my old gut issues.
So this Gut Loving Soup is part of my protocol to get my gut healed again and back to normal. Praise the lord this won't take long. Gut issues are tricky as there can be so many causes. Stress is a big one!
Also cutting out gluten, dairy, coffee, alcohol, chocolate as they are all known irritants to the gut. Having to cut out certain foods that you love the most is the hardest.
I'm also following the protocol I use in my 4 Week Gut Makeover Program of Clean, Seed, Feed and that includes using some specific gut healing supplements and detox tricks.
Aaand of course lots of fermented foods, mushy foods and soups such as this yummy gut loving one here:
Ingredients:
Serves 2
1T coconut oil

2t chopped turmeric

2t chopped garlic

1T chopped ginger

1 onion, sliced

2 carrots, chopped into small pieces

1 zucchini, chopped into small pieces

small head of broccoli or cauliflower, chopped into small pieces

1/2 jap pumpkin, chopped into small pieces

2T shiro miso paste

2C filtered water 

salt and pepper

OR optional if you wish to add protein –

2 organic chicken thigh fillets, poached in water, bring to boil, turn off and let rest for 20 mins, then use this soak water for your soup. Slice chicken.

handful coriander, chopped + extra to garnish (I ran out as you can tell from my naked soup pic!! Lol.)

To serve: Fermented Cashew Yoghurt, or Sauerkraut
Method:
Heat oil in large fry pan. On medium heat, add onion and stir until golden. Add garlic, turmeric, ginger and fry until aromas released. Add salt and pepper to taste.
Add carrots, zucchini, broccoli or cauliflower, pumpkin and stir fry until soft. Turn heat down to low and add the miso paste and water (chicken soak water here instead if you are adding in protein). Stir until combined, and let simmer on low for a few minutes. Add chopped coriander and stir.
If you are using chicken, add your sliced pieces in here now. Stir to combine. Turn off heat and transfer mix to blender and blend until smooth. Garnish with fermented cashew yogurt or sauerkraut and serve in your favourite bowl.  Your gut will love you for it.
POSTSCRIPT: Why poached chicken and the chicken water? Chicken contains fat soluble vitamins that help provide these precious vitamins, in a compromised gut they will be deficient. And feed the good bacteria. 😊 
.
Enjoy with ❤️Find me on Instagram @therawfoodkitchen