Creamy Quinoa & Chia Protein Porridge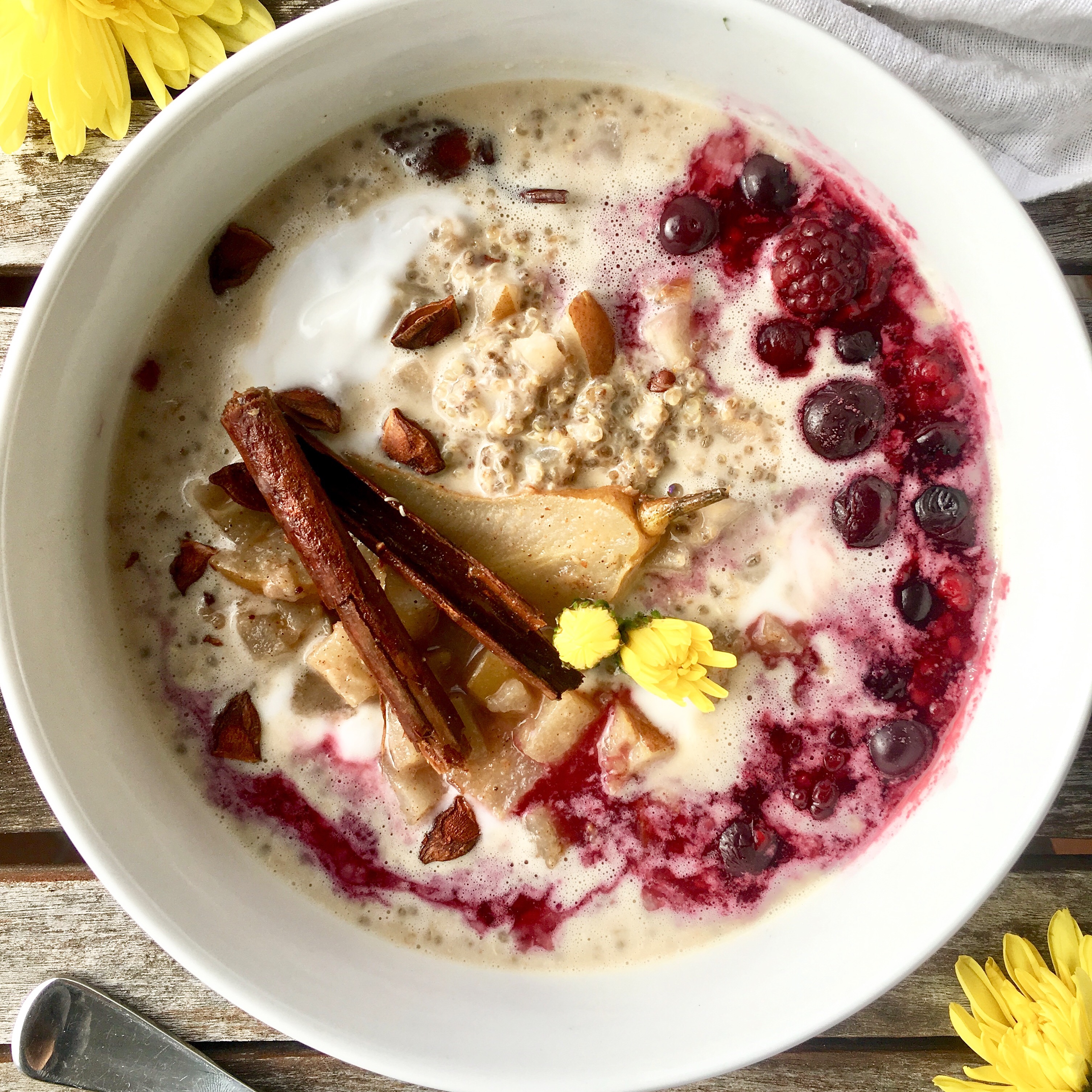 With winter coming I wanted to make a recipe that resembles a nourishing oat porridge but without the bloat.
I don't know about you but oats always made me bloat – they have a protein in them similar to gluten so maybe that's why.
This creamy quinoa & chia protein porridge ticks all the boxes, hearty, warming, yummy, NO BLOAT and I've snuck protein and collagen in there too so will keep you full for ages!
Creamy Quinoa Base:
1C quinoa, soak in water, 20 minutes, drain, cook – simmering with 1t coconut oil, 1t cinnamon & 2C water, pinch salt until absorbed. Set aside.
3T chia seeds
1 scoop collagen peptides (use marine collagen)
1 scoop vegan @pranaon protein powder
1 x 400ml can coconut milk
Method:
In a saucepan combine coconut milk, collagen peptides, and the protein powder, chia seeds & cooked quinoa. Over low heat, stir gently until combined and warmed through.
Set aside to allow chia to absorb and make the mix thicker while you make the fruit compote (optional).
Fruit Compote:
2 pears, sliced and diced (you could add other seasonal fruit here)
1t cinnamon
pinch cardamom
1 star anise, crushed
1 cinnamon quill
pinch clove
salt
2T water
Method:
Over low heat in a saucepan combine all and cook until soft and water has caramelised slightly (a bit of coconut sugar here would help too).
In a bowl assemble porridge, top with fruit compote and serve. I also had some mixed frozen berries which I warmed through and added to the dish for extra pop. Soooo good!
Enjoy with ❤️Find me on Instagram @therawfoodkitchen