Choc Hazelnut Nutella Chia Pudding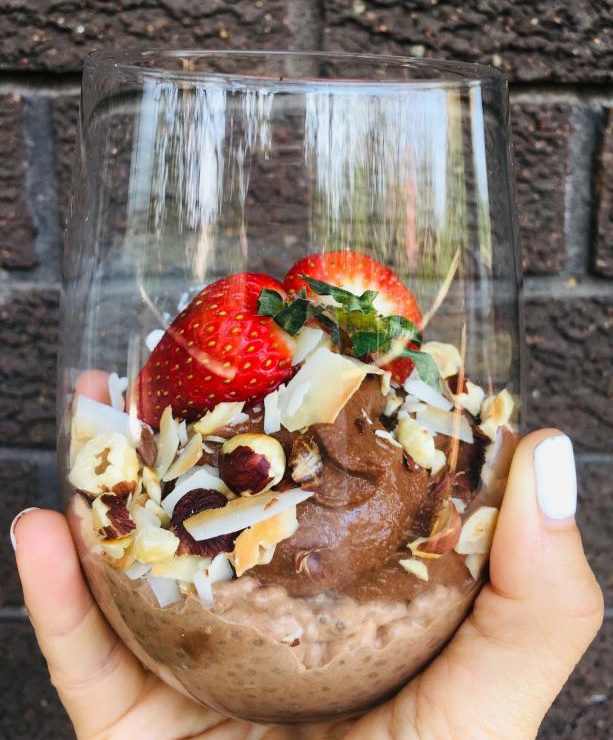 I had a bag of hazelnuts calling me from the pantry, what to do? Get inspired to make this choc hazelnut nutella style chia pudding of course.
Serves 4-6.
Chia Pudding Base Ingredients:
1 can coconut milk

3T cacao powder

Pinch salt

1/2C chia seeds

4T raw honey, or sweetener of your choice
Method:
In a bowl whisk together ingredients, cover and place in fridge to set up. Allow 20 minutes – overnight.
Hazelnut Nutella Mousse Ingredients:
1C dates, soaked until soft – 10 mins approx in hot water, reserve soaking water

2C dry roasted hazelnuts – in dry dry pan heat gently until aroma is released and they have a toasty colour. Cool, rub skins off as much as possible.

1/4C coconut oil

Pinch salt

3 drops stevia

OPTIONAL: Medicine Flower Hazelnut extract – 8-12 drops
Method:
In a high speed blender, add dates, 13/4C hazelnuts, 1/2C date soak water, coconut oil, salt, and optional hazelnut extract. Blend until smooth, adjust to taste. Add more date soak water if mix too thick. 😬 Transfer to an air right container, let set up 20 mins – overnight.
To Prepare:
In a serving jar, layer with chia pudding first, then the mousse, top with a dollop of coconut yoghurt, remainder of hazelnuts (chopped), toasted coconut flakes, and fresh strawberries. SERVE. Will last a few weeks in the fridge. Honestly so delicious you'll want to eat it all asap!
Enjoy with 
Find me on Instagram @therawfoodkitchen