Carrot & Coriander Dhal Recipe with Sesame Eggplant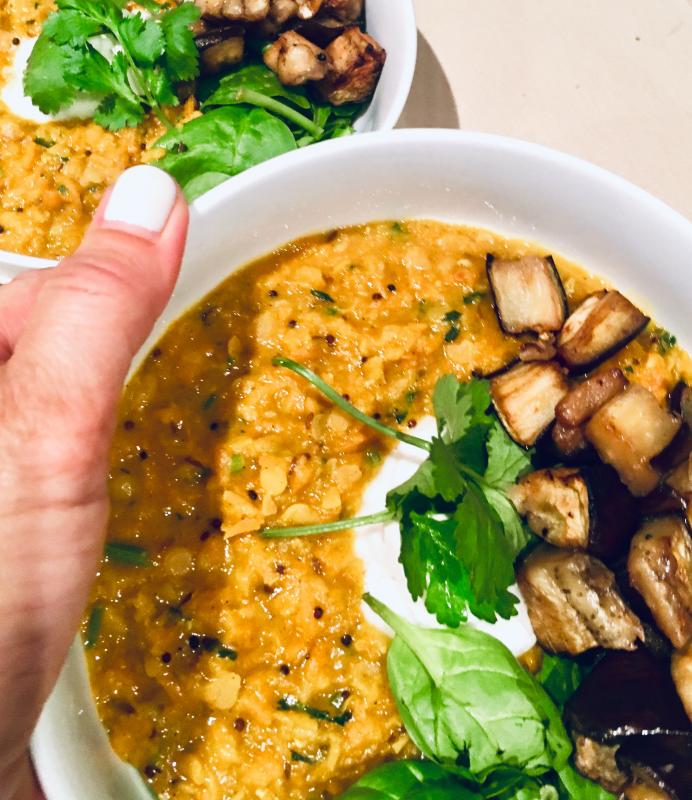 One of my all time faves, but can't take all the credit for this Carrot & Coriander Dhal with Sesame Eggplant recipe, the dhal recipe has been adapted from the Healthy Food Guide recipe, it's soooo good honestly everyone loves it! This makes the perfect nourishing, tummy warming dish for when you need a hug from the inside.

Lentil Ingredients:
1T coconut oil

2t black mustard seeds

2t cumin seeds

750g grated carrot

1L veggie stock

1C split red lentils

2T crunchy or smooth peanut butter

1T curry powder

salt & pepper to toaste

fresh coriander to serve

coconut yoghurt to garnish
Method:
Heat oil, add seeds, and stir until they begin to pop. Add carrot. Let it sweat for 10 minutes. Add stock and lentils and let simmer for 30 minutes or until lentils are soft.
Stir in peanut butter, curry powder, salt & pepper, and simmer until it has a nice thick consistency. Stir in coriander. Turn off heat and serve with a dollop of coconut yoghurt and extra coriander to garnish, and the sesame eggplant.
Eggplant Ingredients:
1 whole eggplant

1T miso paste

1T raw honey

1T tamari

1T ACV

1T sesame oil
Method:
Preheat oven to 180 degrees celsius. Cut up eggplant into cubes. Mix rest of the ingredients in a large bowl so nicely combined. Add eggplant cubes to the mix and toss to combine. Pour onto a baking tray and bake in oven for 30-40 minutes until eggplant soft and the sauce has a nice caramel stickiness.
Serve with your carrot and lentil dhal, fresh spinach & coriander on the side. YUMMY.
Enjoy with 
Find me on Instagram @therawfoodkitchen