Asian Glazed Tofu with Papaya & Zucchini Ribbons Salad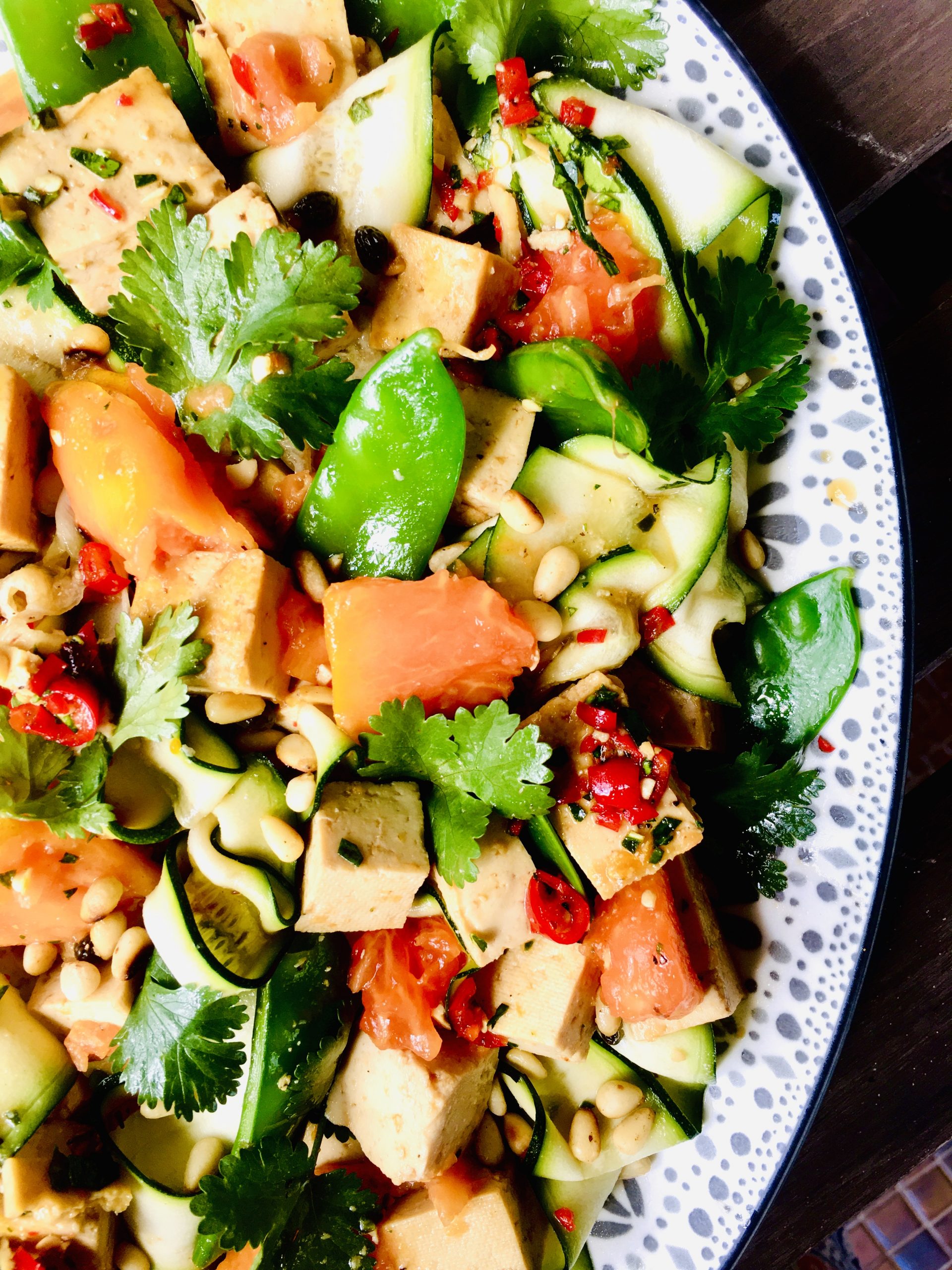 I made this Asian Glazed Tofu with Papaya & Zucchini Ribbons Salad yesterday and ate the whole lot!
Whoops.⁠
⁠This is a yummy spring / summer salad. A healthy cooked & raw vegan fusion. All the flavours work so well together! ⁠
You can choose any protein of your choice if you are not vegan to go in here, some grilled fish or chicken would work well too.⁠⁠
Serves 2-4.
Ingredients:
500g firm Non GMO organic tofu, cut into cubes
1C cubed papaya – I leave the seeds in for a peppery hit⁠
1 large zucchini, sliced thinly with a mandolin⁠
handful coriander, torn⁠
1/4C pine nuts, toasted⁠
1C snow peas, blanched⁠
2 red birds eye chills, sliced⁠
1T tamari⁠
1T raw honey⁠
1T ACV⁠
1T olive oil⁠
2 keffir lime leaves, sliced⁠
s&p⁠
Method:
To a bowl add the tofu, chilli, tamari, honey, ACV, olive oil, lime leaves, and toss to combine. Place into a fry pan, reserve some of the liquid to top as a dressing. Cook over medium to high heat until lightly golden.⁠
Transfer to a bowl and add the papaya, snow peas, coriander, pine nuts (reserve extra pine nuts for topping off salad).⁠
Toss to combine. Transfer to a plate, top with extra dressing & pine nuts, few coriander sprigs and serve.⁠
ENJOY WITH LOVE. <3
Find me on Instagram @therawfoodkitchen